Looking for the perfect place to take your Valentine next week? Enjoy a romantic evening at iTalico in Palo Alto, with delicious modern Italian cuisine and a casually elegant ambience.
The California Avenue restaurant isn't normally open on Mondays, but it's making an exception this coming Feb. 14. In addition to its regular menu of seasonal pastas, pizzas, fresh salads and more, the restaurant will have an array of special a la carte dinner offerings from executive chef Kristyan D'Angelo, including: a fava bean, onion and celery soup; beef carpaccio with black truffle; risotto with lobster and asparagus in a light tomato sauce; and pan- seared ahi tuna with zucchini, sweet Calabrian pepper powder and sweet potato fries. Savor the decadent raspberry chocolate mousse with your sweetheart, and don't forget to toast each other with a glass of the featured wine of the evening, a sparkling rosé from the acclaimed Sicilian winery Benanti. Appropriately called "Lamoremio," ("My love" in Italian) the wine is produced from grapes grown on the slopes of the famed volcano Mt. Etna.
If you can't make it on Valentine's Day, however, don't worry, because delicious things are always happening at iTalico. The restaurant recently snagged Michelin's prestigious Bib Gourmand award, which is given to a select number of places that Michelin reviewers say best marry good value and good cooking. The restaurant is also locally known for its cacio e pepe nights. On Wednesday evenings they crack open a whole wheel of Grana Padano cheese, warm it up with a splash of grappa Cacio E Pepe or vodka, then toss hot pasta in the cheese bowl to make an authentic cacio e pepe.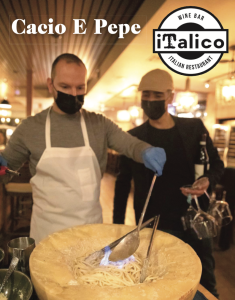 "The pasta gets all the flavor of the smokiness and the cheese," said co-owner Franco Campilongo. Finished with pepper, it's served straight from that Grana Padano bowl.
It's been so popular that they're now going to do it on Thursday evenings as well, which will be accompanied by live music from co-owner Maico Campilongo and musician Mike Annuzzi from 6 to 9 p.m. on the patio.
For private events the restaurant offers two banquet rooms and can host business meetings or social parties of up to 40 people. They also have a private outdoor area that is heated and shielded from wind.
Reservations are strongly recommended, especially for cacio e pepe nights and for outdoor dining. Call them at (650) 473-9616 or go to italicorestaurant.com.