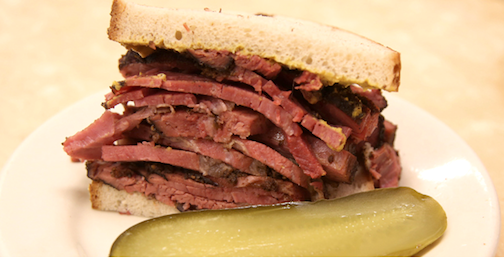 BY EMILY MIBACH
Daily Post Staff Writer
A Redwood City woman is hosting an authentic kosher New York deli popup on Sunday (Dec. 12).
Ella Potash is spearheading the popup, which is taking pre-orders until Thursday (Dec. 9) at chabadmidpen.com/deli.
Offerings include pastrami sandwiches, corned beef sandwiches, chicken soup, potato knishes, rugelach, babka and Dr. Brown's soda. Upon ordering, customers will get information on where to pick up their curbside order at a location near Jefferson Avenue and Alameda de las Pulgas.
Potash and her husband, Rabbi Levi Potash, head up Chabad MidPen, an Orthodox Jewish Hasidic movement that works with various communities. The funds from the pop-up will go toward the Chabad's senior services, which include visiting retirement homes and celebrating during major Jewish holidays and helping seniors spiritually while they are in hospice care, Potash said.
Potash's idea for a kosher deli was inspired by the lack of such establishments in the Bay Area.
"If you've ever had kosher New York deli, you're probably missing it here," Potash said.
This is Potash's second time running the pop-up. She ran a very successful one in March, selling 120 sandwiches, 50 soups, 100 knishes and 60 babkas.
She works with another Chabad from the East Bay that has a commercial kitchen, where they prep all the food before bringing it to Redwood City. "It really is the best ever," Potash said.