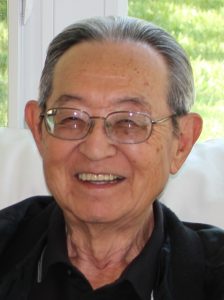 February 13, 1929 – November 9, 2021
Ted (Teruo) Noguchi, a long-time resident of Palo Alto, passed away on November 9, surrounded by family.
Ted was born in Acampo, a very small town outside of Lodi on February 13, 1929 into a very large family with nine children. He was the fourth son of Tokuichi & Tsukimi Noguchi. He spent his early years farming in Lodi harvesting grapes alongside his family. In his teenage years during World War II, he and his family were sent to Internment Camps at Jerome, Arkansas and Tule Lake, California.
After the war, he finished school and enlisted in the U.S. Army as an interpreter. He was fluent in Japanese but still attended language school in Monterey before being deployed to Japan with the Military Intelligence Service. General MacArthur recognized his natural athletic ability and was often asked to represent his unit in the friendly military basketball and baseball games.
Following his military service, he moved to San Francisco where he met and married Fudge. They spent a wonderful 67 years of marriage and had two daughters, Gayle and Cathy. Ted earned an Electrical Engineering degree and worked for DeLeuw Cather, a Civil Engineering Consulting firm in San Francisco, obtaining expertise in Traffic Engineering. In 1967, Ted became the City of Palo Alto's Traffic Engineer and the family moved to Palo Alto.
Among his top professional accomplishments was being the first city with designated bicycle lanes on city streets. Ted attended USF University and received a Master's in Public Administration while also coaching and refereeing youth sports, raising a family, volunteering and working.
Quiet by nature, Ted would say, "you learn more by listening." He always found time to ride his bike, fish, golf, play catch with the neighbor's kids, church, garden and watch sports on television. He loved maple donuts, french fries, 7-up, all breakfast foods, hot dogs and his black beanie.
Ted was proud of and loved the many additions to the family. He thoroughly enjoyed all the activity and energy. Ted will be missed by his wife, Fudge; daughters, Gayle Narimatsu (Glen), Cathy Koubek (Andy); grandchildren, Matthew Olmo (Tara), Kelly Garcia (Michael), Katie Goldstein (Nicholas); and, great-grandchildren, Trevor and Aly Olmo, Liam, Jeremy, and Aubrey Garcia, Casey and Ari Goldstein.
In lieu of flowers, contributions to Donate Life America (donatelife.net) are appreciated.