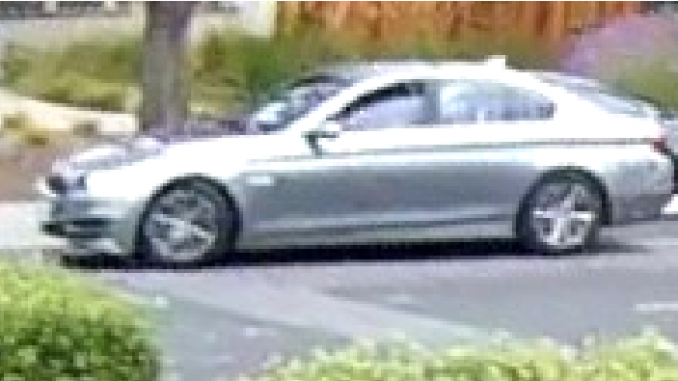 By the Daily Post staff
A woman in her 70s was out for a walk with her husband in Palo Alto when a couple of strangers pulled up in a car, engaged them in a conversation, and when they drove away, the woman realized her necklace was gone.
Police don't have much to go on, except that a home surveillance camera got a picture of the car the suspects were driving Saturday afternoon (see above).
According to police, it happened this way. The victim and her husband were walking in the 700 block of East Meadow Drive at about 4 p.m. on Saturday when a car drove up and stopped.
The car was occupied by a male driver, a woman in the passenger's seat and a child of about 10 years old in the back.
The female suspect spoke to the victim in a language she believed may be Urdu. Urdu, the official language of Pakistan, is an Indic language closely related to Hindi but written in the Persian script. It has many loanwords from Persian and Arabic.
The male suspect distracted her husband by speaking with him in heavily accented English. The suspects stayed in their vehicle the entire time.
The female suspect offered the victim a gold necklace, and placed it around the victim's neck, apparently giving it to her.
The victim could not understand what the female suspect was saying to her during the interaction.
After less than two minutes, the vehicle drove west on East Meadow Drive toward Middlefield Road. The victim then realized that the suspect had stolen her two gold necklaces off her neck while putting on the other one.
The victim described the suspect as a woman in her 50s with a scarf over her head and a face covering. The victim said the suspect had "darker" skin and was possibly of Middle Eastern or Romanian heritage. Neither the victim nor her husband could describe the male driver. The victim described their vehicle as an older, silver sedan.
Officers canvassed the neighborhood for any surveillance cameras on nearby homes and were able to locate one that captured the suspect vehicle on tape.
Anyone with information about this incident is asked to call police at (650) 329-2413. Anonymous tips can be e-mailed to paloalto@tipnow.org or sent via text message or voice mail to (650) 383-8984.