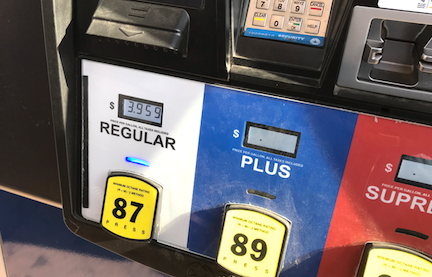 BY EMILY MIBACH
Daily Post Staff Writer
It's starting to look like there are two groups of thieves stealing thousands of gallons of fuel from service stations in San Mateo County.
A suspect associated with one group was arrested in May after 750 gallons of diesel was taken from the Shell station at 743 Marsh Road in unincorporated Menlo Park. And a second group using two vehicles hit the Shell station in Ladera in late July and early August, taking 1,700 gallons of gas. The suspects in the second group are at large.
Sheriff's Office spokesman Lt. Eamonn Allen said there is no "concrete evidence" that the same people were responsible for the thefts at the two shell stations.
The thefts in Ladera occurred on several nights between July 5 and Aug. 9. Two vehicles, a white Sprinter van and a black Chevy pickup, pulled up to the gas station at 201 La Cuesta Drive, used an electronic device that looks like a TV remote to unlock the gas pump and steal the fuel, according to Allen.
The theft from the Shell on Marsh Road happened May 15 when Andres Riveiro, 38, of Castro Valley, and another man pulled up to the gas station and used a similar electronic device to steal 750 gallons of diesel fuel, according to the district attorney's office.
For about an hour starting at 12:20 a.m. on May 15, Riveiro and his accomplice pumped the gas into their trucks and extra tanks they had, said District Attorney Steve Wagstaffe.
Police were able to track Riveiro's black truck to his Castro Valley home. The truck was stolen in Florida and has a switched VIN, Wagstaffe said. A search found the remotes used to unlock the tanks and a credit card skimmer.
Riveiro and his crew are suspected of stealing gas from Napa to Monterey counties. Riveiro is out of jail on $200,000 bail.
Allen, the sheriff's spokesman, said while the MO was certainly similar to the previous theft, the vehicles used were different and the thefts were over time, not all at once. However, in both cases the pumps were unlocked with the devices that look like TV remotes.
The devices have numbers and up/down buttons, but no power button in the middle.
Allen said there are some security measures gas stations can take to avoid being hit. Stations should change the code on the pump from the factory setting. Keeping the factory settings on the pump can make it easier for these devices to unlock the pump.
ᐧ