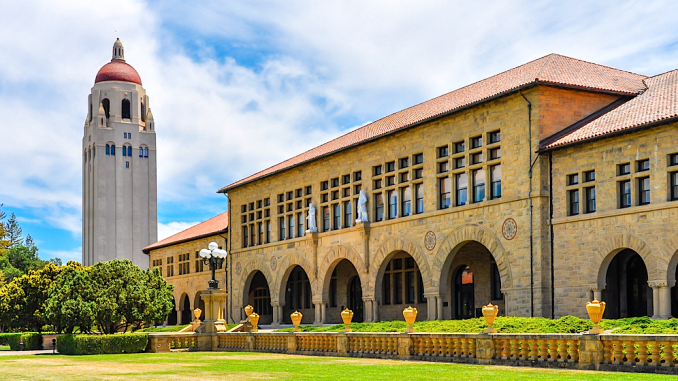 BY JEN NOWELL
Daily Post Correspondent
Stanford University's Community Board on Public Safety is calling for a new model for policing on campus, which could lead to a reduction "to the greatest extent possible" in armed police presence.
Proposals from the board include reducing community interactions with armed officers, new strategies for responding to mental health crises, and new processes for receiving and evaluating community feedback on positive and negative police interactions. A potential model could use non-sworn officers to perform certain functions on campus while retaining a unit of sworn police officers for emergency responses and other circumstances that require it, according to the board's report.
In its first annual progress report, the board reviewed three years of data on Stanford police's interactions with the public. This data included arrests made, citations issued, and field interviews conducted by race and ethnicity.
However, the board cautioned the initial data may be difficult to interpret partially because the Stanford campus population of students, faculty and employees is not representative of the total population of people on campus with whom police interact with on any given day, according to the report. It is estimated that hundreds of thousands of additional people visit the campus each year.
The board, which was established three weeks after the murder of George Floyd in May 2020, includes faculty, students, staff, community members and members of Stanford's Department of Public Safety.
The report points out that there have been 334 mass shootings in the U.S. this year as of July 10, and violence toward Asian and Pacific Islander communities around the country have escalated, and while these events may not be occurring on Stanford's campus, that doesn't mean they don't affect campus climate.
Recommendations
In its report, the board outlined eight recommendations, including:
• Reducing to the greatest extent possible armed policing, particularly in student-centered areas of campus, and developing programs to help create a level of trust for students when they have to call on officers for assistance.
There could be two response units — an emergency response unit of sworn officers with the necessary arms and training that could be deployed in the event of threats of violence, significant property damage or felony calls; and non-sworn officers who would handle all other situations or the majority of calls.
Currently, 911 calls are routed through the Palo Alto Police Department dispatch. This might need to change with the university establishing its own call center that could assist with the various types of calls, including mental health.
• Having mental health professionals respond to mental health crises on campus, and DPS officers only respond when there is a threat of violence or harm to public safety. The board recommends establishing a mental health unit that would respond to calls 24/7.
• Tracking of various types of public safety calls to facilitate review.
• Coordinating and requiring all security services operating on campus to meet minimum standards. Some schools and departments contract with private companies for security, and there is not a system in place for compiling data from the private security services, therefore, there was no information on these interactions available to the board.
• Requiring all security services to receive anti-bias and de-escalation education. Stanford DPS members already receive this training, but the board recommends it be reviewed annually.
• Developing a process for receiving community feedback and independently reviewing any complaints in regards to interactions with police or private security.
• Consideration of other possibilities for community involvement in managing public safety on campus. The board recommends the university commission a study or survey to determine the extent to which the community would be willing to undertake actions and responsibilities that would reduce the need for certain Stanford police services.
• And the university should seek to capture data related to police interactions with the public that more easily reveals potential bias. The board also recommends Stanford police adopt a bias-free policing policy.
As a follow-up to its report, the board expects the university to review its recommendations and come up with ways to respond.
"The board will be doing further analysis and may make additional recommendations about these and other issues, which we welcome," Stanford President Marc Tessier-Lavigne wrote in a letter. "Wherever there are questions of unequal treatment based on race or ethnicity, we must confront them squarely and unequivocally."
Racial differences
In its review of the data, the board discovered differences between races and their experiences with university police.
Hispanic and Latino drivers constitute a higher portion of arrests and citations than their proportion of the overall Stanford faculty, staff and population, or for the two counties in which Stanford operates, according to the board's report.
The percentage of black drivers and riders stopped for a possible vehicle or bike violations was almost three times as high as the percentage of black drivers and riders who received citations for those stops and twice the percentage of Stanford faculty, employees and student population, the board's report states.
The percentage of field interviews with black individuals was nearly four times the percentage of the black student, employee and faculty population at Stanford, according to the board's report. Field interviews don't involve arrests, citations or warnings, but indicate an officer has interacted with someone.
The data revealed that Stanford community members' calls for services are a substantial cause for why DPS has more contact with the black and Hispanic population on campus.
More data collection
The California State Legislature enacted the Racial Identity and Profiling Act, or RIPA, which required Stanford to start collecting more extensive data beginning Jan. 1, 2021 for each stop of a citizen by a sworn officer.
The RIPA data will include perceived age, race, gender and disabilities; date, time and location of a stop; reason for the stop; actions taken during the stop; search information; evidence found; property seized, and; the result of the stop. This data should be available to the board beginning April 2022.