Your dining table should be the star of the room, setting the stage for memories you make for every meal and holiday celebration. And this Stickley cherry wood dining table, which evolves the famed brand's Mission style into the 21st century, can elevate any dining room with its effortless style.
Available right now at Flegel's Design in downtown Menlo Park, this dining table is elegant without being ornate, able to handle casual and formal affairs with equal aplomb. Like all Stickley furniture, it represents the highest quality of furniture manufacturing, with traditional techniques of wood joinery that make it both durable and elegant, according to Flegel's owner Brian Flegel. At the base of this trestle table, spindles are arranged in two broad bows to provide a fresh perspective from every direction. The simple, clean lines of the tabletop accentuate the natural beauty of the solid cherry wood. Two leaves can extend its length. Offered optionally alongside the table are six dining chairs upholstered in a subtle bluebrown geometric pattern.
In 2018, Marissa Brown became the first female director of design in the 120-year history of Stickley, the historic hardwoodfurniture company based in upstate New York. This table is from her inaugural Park Slope Collection, which marries the familiar motifs of the Arts and Crafts
movement and the company's famed Mission style – the reverse-tapered legs, the iconic square spindles – with organic curves and a modern lightness.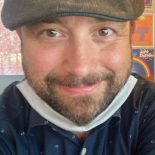 "This represents a passing of the baton," said Flegel's owner Brian Flegel. "It marks a new era for Stickley."
The award-winning Park Slope collection upholds Stickley's commitment to meticulous craftsmanship, with authentic, solid-wood construction and handapplied finishes that reveal the wood's innate beauty. The company sources their cherry wood from small, family-owned
and managed woodlots in New York and Pennsylvania.
To see this beautiful table and chairs in person, or to check out any number of other fine furnishings, call Flegel's Design at (650) 326-9661 or stop by their downtown Menlo Park showroom Tuesday through Saturday.