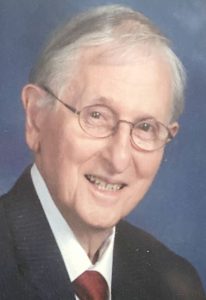 October 4, 1928 – July 16, 2021
Sidney Custodio, 92, a 45-year resident of Menlo Park, died July 16th, 2021. He was born October 4th, 1928 in San Francisco, California.
He entered St. Joseph's Seminary at the age of 13 and was ordained a priest on June 10th, 1956 for the Archdiocese of San Francisco. He met the love of his life, Audrey Terkmany, in 1973, and they were married in 1975. After moving to Menlo Park, Sid worked as a high school Latin teacher at Woodside High School until his retirement in the early 1990s. He was an active member in his parish community, the Church of the Nativity, where he served as lector, Eucharistic minister, and participated in the Senior Thursday Group. Sid was a man of God and dedicated everything he did to the Holy Trinity: prayer, daily Mass, gatherings with friends and family, hallmark movies, and all things sports.
Predeceased by his parents, James and Margaret and brothers, Jim and Ed and sister, Mary. He is survived by his wife Audrey, of Menlo Park and his nephew Ted Custodio of Chicago, his niece Cecelia of South San Francisco and his grandnieces and nephews. Sid's radiant personality and ability to bring Jesus' love to every person he met will be missed by all who love him.
A prayer Vigil will be held on Wednesday, August 4th at 7:00 PM, and a funeral Mass on Thursday, August 5th at 11:00 AM. Both services will be held at The Church of the Nativity at 210 Oak Grove Ave. Menlo Park. Memorial donations may be made to St. Anthony's Padua Dining Room 3500 Middlefield Rd. Menlo Park.