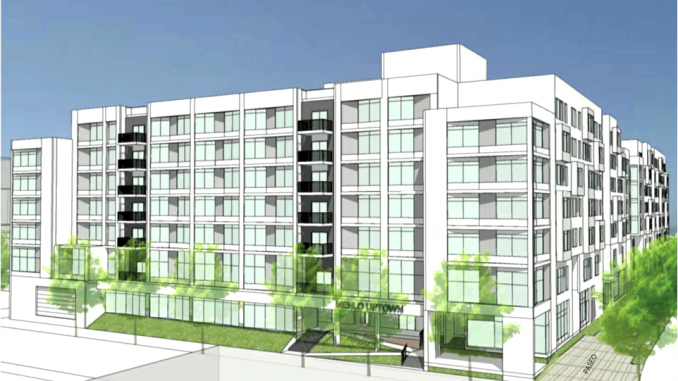 BY EMILY MIBACH
Daily Post Staff Writer
The Menlo Park Planning Commission last night unanimously approved Greystar Real Estate's proposal to build a 483-home development near Facebook, despite some residents who wanted more low-income apartments in the project.
The project is slated for 141 Jefferson Drive, midway between the Hotel Nia and Facebook's Constitution Drive campus in Menlo Park. It will replace over 100,000 square feet of office space.
It will consist of 441 apartments and 42-for sale condos. Of the apartments, 67 will be set aside for below-market-rate housing. As for the condos, six will be offered at moderate rates, meaning the homes are meant to be affordable to people who earn 80%-120% of the area median income, which is $149,600 in San Mateo County. In order to afford one of the townhouses, a family of four would be bringing in a maximum of $179,500 annually.
The development will also have 2,940-square-feet of commercial space for an urgent-care clinic.
Commissioner Michele Tate asked Greystar representative Andrew Morcos why at least one of the for-sale townhouses could not be offered for low-income earners or a family of four who brings in less than $146,350 annually.
Morcos said the company would have had a harder time making the project work financially. He said they get the same subsidy whether the housing is for moderate-income earners or low-income earners.
Residents such as Soody Tronson asked why there were more studio and one-bedroom apartments reserved for low-income earners than larger apartments. She questioned whether the development would help families who are getting financially pushed out of town.
Morcos responded that since most of the apartments are studios and one-bedrooms, the low-income apartment offerings would reflect the mix of bedrooms per unit.
Aside from voting whether to approve the project, the commission had been asked to weigh in on Greystar's proposed community benefits. Greystar had proposed either an urgent-care clinic or an office for Samaritan House.
The commission unanimously agreed that Greystar ought to include an urgent care center run by the Ravenswood Family Health Clinic in the 2,940-square-foot space on the ground floor of the project.
Commissioners Tate and Chris DeCardy lamented that they would have preferred to have the urgent care center in the Belle Haven neighborhood. But other commissioners pointed out that the placement of the new Ravenswood outpost in the Greystar project would be well positioned for residents of Belle Haven and North Fair Oaks neighborhoods.
Last night's vote may be the final vote on the project. It could be appealed to council in the next 10 days.
The Greystar project is the latest and largest housing development to be approved in the east Menlo Park neighborhood referred to by city planners as M2.
Some 1,449 homes will eventually be added to the area, with the commission approving in April 105 apartments for 111 Independence Drive. The other three projects are:
• Menlo Portal at 104 Constitution Drive and 115 Independence Drive, 320 apartments, 34,700 square feet of office space and 1,600 square feet of office space, proposed by Greystar.
• Menlo Flats at 165 Jefferson Drive, 156 apartments. Proposed by Greystar.
• 123 Independence Drive, 316 apartments, 67 townhouses and 88,750 square feet of office space. Proposed by developer John Sobrato