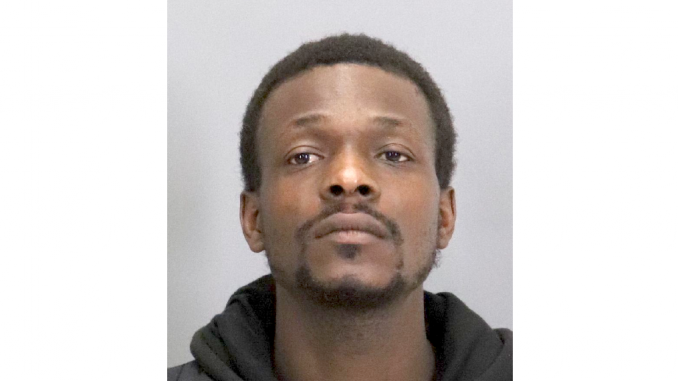 By the Daily Post staff
Palo Alto police announced today that they have arrested a parolee after he allegedly assaulted and robbed a man in his 70s at the downtown train station.
Jesse Clay Camper III, 34, of Oakland was booked into the Santa Clara County Jail for robbery and elder abuse (both felonies) and resisting arrest (a misdemeanor). Camper is on active parole for a prior robbery conviction, police said.
On Friday (May 21) at 1:41 a.m., 911 dispatchers received a call from a man who said he had just been assaulted and robbed at the train station at 95 University Ave.
Officers responded immediately, but the assailant had fled and was not immediately located.
The victim told police that his assailant had approached him as he was getting to ready to sleep on the train platform and accused him of stealing his cellphone.
The assailant, who was not previously known to the victim, proceeded to kick the victim in the leg and then punched him in the head.
The assailant then took off his belt and hit the victim in the face with it, police said.
The assailant stole the victim's backpack, which contained an iPad and blankets, and fled on foot.
The victim, as well as a witness to the robbery, gave chase but soon lost sight of the suspect as he ran east on Lytton Avenue.
The victim was not physically injured.
At about two hours later, at 3:28 a.m., a patrol officer located a man matching the suspect's description standing outside the downtown 7-Eleven at 401 Waverley St.
When officers went to detain the man for investigation, he physically resisted police and refused to comply with instructions, police said. Officers were able to take him into custody without using any force beyond control holds, police said. Due to the suspect's continued resistive behavior, officers had to place him in a safety restraint device, according to police.
"The suspect also threatened to spit on officers and said he would fight the police were he not in handcuffs," police said.
The suspect no longer had the victim's backpack, which remains outstanding.
Once in custody, the suspect said he was having difficulty breathing. Officers summoned paramedics from the Palo Alto Fire Department, who took the suspect to a hospital. He received a medical clearance for incarceration a short time later, police said.