August 26, 1929 – April 17, 2021
Elizabeth Anne "Betsey" Wallick was born August 26, 1929 to Guy Philip Wallick and his wife, Florence Kenneth "Keysie" Keys, in Palo Alto, California and was the youngest of three children. Her sister, Alice Jean Wallick and brother, Philip Wallick predeceased her. As a young child, she remembered rationing during WWII, therefore she was a recycler for the rest of her life.
She graduated Palo Alto High School Class of 1947.
She graduated from the all-women's Mills College in Oakland in 1951 with a degree in occupational therapy – the first woman with a college degree in our family. That accomplishment has been continued by her daughters and her granddaughter, with more college graduates to come.
After college, she traveled to Europe on a steamer, seeing the aftermath of WWII. Upon her return, she worked as an occupational therapist at the National Jewish Hospital in Denver, Colorado.
She traveled again in 1956, this time to Italy and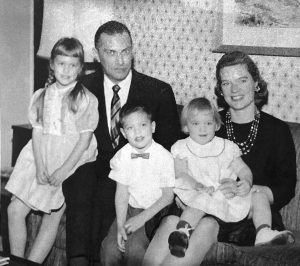 then on to Istanbul, meeting her handsome husband, Renato Giuseppe Danon, shipboard. Renato spoke six languages and then learned English only for her. They had three children, Giuliana Maria Danon, Guido Renato Danon, and Felicia Grazia Danon before returning to the USA in 1961. Two years later the family moved to Rome, Italy for a year and then returned to Palo Alto.
In 1968, the family returned to Istanbul where Renato was to open the catering service for Marriott at its Yesilkoy airport. While in Istanbul, Betsey taught at the Roberts College Community School where Giuliana attended school while Felicia and Guido attended the Italian elementary school in Istanbul.
When she returned to the USA in 1970, Betsey got her teaching degree from San Jose State University and taught elementary school at Harker Academy in Palo Alto. When Harker merged with a military school in San Jose, Betsey opened an elementary school in Palo Alto with Inge Zumwalt at her side, naming it the Keys School after her mother's maiden name. Today the school flourishes with students from kindergarten through 8th grade and recently honored both Betsey and Inge in a Founder's Day ceremony.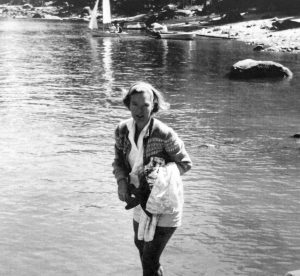 Betsey loved her adolescent summers in Pinecrest where she learned to swim, fish, kayak, ski and camp, all of which she taught her children. In the winter, she learned to ski at Dodge Ridge when skiing in America was just becoming fashionable, and she taught her children how to ski there many years later. She loved the "Fallen Log" cabin on Rustic Road her dad built during the depression, taking her children there any time she could until it was sold in 1970.
While living with her parents in Palo Alto, one by one her children graduated high school and began college. After both her parents had passed away, she sold the Palo Alto home and moved to Hanover, New Hampshire, in 1978, in town where her father had obtained a Master's degree from Dartmouth College's Amos Tuck School of Business in the 1920's. She remembered fondly driving across country with Guido for this move. After two years, she returned to California, this time settling in Sonora where she remained for the next 40 years.
In Sonora, she became co-owner of the Sierra Foothills Residential Care Center, caring for the developmentally disabled until she retired at age 80. Her beautiful house she bought on a Sonora mountainside with its gorgeous view and proximity to Pinecrest became her children's holiday and vacation destination during these years – enjoyed by her daughter Giuliana and her husband, Levent Vural, and their children Turan Vural and Zerrin Vural, and her second daughter Felicia Danon North and her husband, Richard North. It even became the home of her son Guido and daughter-in-law, Sheri Gardener Danon, and their children, Andriana (Danon) Billeci and Christopher Danon.
She was loving, fair, outspoken, opinionated, warm hearted, stubborn, generous with her time in assisting others, not prejudiced about color, race or religion, a tree lover always worried about the California droughts, an avid hiker and skier well into her 70's, an avid reader, lover of Italian Opera, a viewer of Great Courses with Bob Smithiman, a consummate planner of fun and educational "activities" for others, a grandmother to four wonderful grandchildren and even a great grandmother to Vera Elizabeth Billeci. We remember her with many emotions and will miss her tremendously.