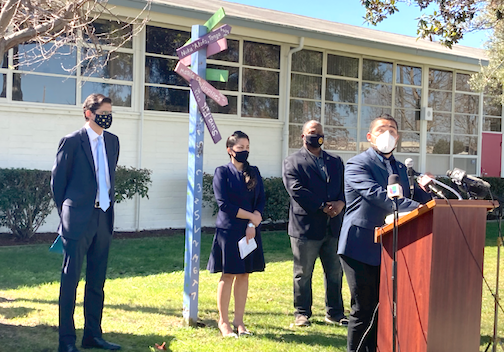 BY EMILY MIBACH
Daily Post Staff Writer
Officials today (March 1) urged state and federal agencies to distribute more Covid vaccines to poorer communities such as East Palo Alto, which has received about half as many vaccinations as neighboring cities.
"From the beginning of the pandemic, East Palo Alto has been ravaged as quickly became one of the epicenters for the virus in our county," said state Senator Josh Becker, D-Menlo Park. "This community has single-handily allowed for the economy of our region to continue to operate. … in East Palo Alto many members have been essential workers in our community from hospitals to grocery stores, this community has been on the front lines and allowed human capital for those of us who have been able to work from home, be able to do so."
Becker stated that 1 in 6 East Palo Alto residents, including children, have gotten Covid.
Meanwhile, only 10% of the city's 30,499 residents have been vaccinated, according to county data.
In most other cities in the county, 20% of residents have been vaccinated.
In Menlo Park, which has a population of about 35,000, 26.75% of residents have been vaccinated. In Atherton, 46.79% of the town's 7,168 residents have been vaccinated.
Of the 32 cities, towns and unincorporated areas listed on the county's vaccination data website, only three other areas in the county are also under 20% vaccination.
Moss Beach is at 19.93%, Loma Mar at 18.6% and North Fair Oaks, which borders Atherton, Menlo Park and Redwood City, 15.31%.
"There are still two sides to the Bay Area, one more well off with instant access to resources and another, living paycheck to paycheck, struggling how to figure out how to keep their families safe," said East Palo Alto Councilman Antonio Lopez.
"This is not just a moral plea that setting aside more vaccines for the most marginalized is the right thing to do. It is also economic. We are your grocery workers, auto shop workers, cleaners, caterers and construction workers. The economic backbone to Silicon Valley. If this community keeps getting sick, so does the bottom dollar," Lopez said.
Last week, the county began vaccinating teachers, emergency workers and food workers. But Becker said that some of the people who live in East Palo Alto or have food industry-related jobs have less time to navigate the complicated appointment process for vaccinations.
"It's one thing to prioritize who gets vaccines, another to deliver them," Becker said.
Before last week, the county was only vaccinating health care workers and people over 65 years old. In Atherton, 22.4% of residents are 65 or older, according to census data.
Meanwhile, 6.9% of East Palo Alto residents are over 65 years old.
In Menlo Park, 14% of residents are over 65, and in North Fair Oaks, 8.4% of residents are over 65.
Meanwhile, over 25% of the population in North Fair Oaks (29.2%) and East Palo Alto (28.3%) have residents under 18, who are not eligible for the vaccine.
In Atherton, 22.3% of residents are under 18.
San Mateo County currently has two regular mass vaccination sites — one for the north county at SFO airport, where up to 10,000 people can get a shot, and another for the central county at the Event Center in San Mateo, where about 5,000 people can get a vaccine.
There is currently no regular mass vaccination site in southern San Mateo County, where the two least vaccinated areas are.
When asked if there are plans for a south county mass vaccination site, county Board of Supervisors President David Canepa said that while it depends on how many doses the county will be getting from the state, he anticipates something coming to south county in the next week or so.
Former Mayor Larry Moody added that the city is ready to do a vaccination site, but East Palo Alto needs to receive the vaccinations.
Ravenswood school board member Ana Maria Pulido said that the school district has long been a partner with the county and city to get information and resources out to residents. She said as long as the district gets some help running sites so as not to eat into the district's educational responsibilities, the district is willing to have a vaccination site. Currently, some of the schools in the district have rotating testing sites.
But, the city still needs help. The city has seen an increase in unemployment, likely because of people who don't feel safe or can't currently get back into the workforce, Moody said. Vaccinations need to be ramped up and not with a 9-5 distribution center, but an around-the-clock ability to give people vaccines.
This is not Becker's first call on Gov. Gavin Newsom for more vaccines in East Palo Alto and other areas hard hit by Covid. On Jan. 25, Becker and Assemblyman Marc Berman, D-Menlo Park, along with other South Bay legislators, sent a letter to Newsom asking that the state provide a Covid vaccine allocation to counties, with an eye toward census tracts where Cvoid is occurring more.
On Thursday at 6 p.m., the city council is set to have a discussion with county leaders about Covid in the city. The discussion, which will be open to the public and have a public comment section, was originally scheduled for last week but was canceled at the last minute due to a scheduling conflict.
ᐧ