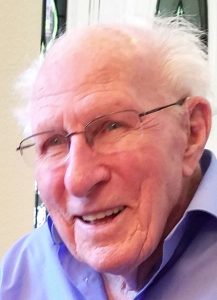 August 8, 1927 – January 23, 2021
Adam J. Wosick, 93, died at home of natural causes 1/23/2021.
Adam was born 8/11/1927 in Big Woods, MN, the son of Frank F. and Laura M. (Stoltman) Wosick. After mastering the family business of farming, Adam served in the U.S. Navy, 1945-46, aboard the USS Floyd B. Parks DD-884. On 2/13/60, Adam married Marilyn N. McBride in Arroyo Grande, CA. Together they formed Wosick Construction, Inc. in Silicon Valley and, as General Building Contractor, specialized in custom homes, remodeling and commercial reconstruction for 32 years.
Upon retirement, in 1998, Adam and Marilyn traveled the country where Adam always found ways to apply carpentry skills with his passion for helping others. From mission organizations in Alaska to Mexico and throughout the United States, Adam was never far from a hammer. He always had a ready smile, a desire to connect with people and a generous heart.
His hobbies included card games, billiards and building custom-designed birdhouses. He was an avid reader, enjoyed word puzzles and was a renowned prankster who planned months ahead of each April Fool's Day to play silly tricks on those he loved. His laughter was a treasure.
Most important in life was his relationship with God. He was faithful to church participation, but it was his personal love and devotion to the Bible, prayer, and seeking to live a life honoring his Heavenly Father that were central to his being. These guiding principles and practices provided meaning and joy to his life.
He is survived by wife Marilyn, daughter Cynthia (Keith) Viveiros, son Richard, granddaughter Alex Viveiros, brother Peter (Pam) and numerous cousins, nieces and nephews. Adam was predeceased by his parents, his sister Frances Grabanski and brother Paul.
No services due to restrictions on group gatherings. In lieu of flowers, donations may be made in Adam's memory to Habitat for Humanity, International. https://www.habitat.org/donate/?link=628
Interment at Oak Hill Memorial Park, San Jose, CA.