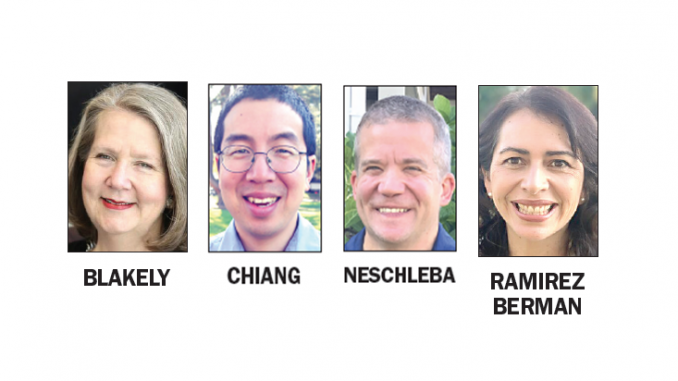 BY SARA TABIN
Daily Post Staff Writer
Five candidates are running for three seats on the Mountain View Whisman School Board.
The district, which serves 5,382 students, has nine elementary schools and two middle schools, Crittenden and Isaac Newton Graham. The board has five members.
LAURA RAMIREZ BERMAN, an administrator and former principal at Aspire Public Schools, said she is running because the district faces a persistent achievement gap that will be exacerbated by the pandemic.
"We are long overdue in making real progress on our goals," she said.
Ramirez Berman, 44, said she wants high expectations and rigor for children because they will meet the expectations that are set for them. She wants data on inequalities in the district and "culturally responsive" teaching. She also wants to foster a sense of community and belonging in the district. She said relationships are as important as curriculum. She said she wants teachers and other school workers to build a culture that celebrates diversity.
LAURA BLAKELY, a partner at GCA Law Partners LLP, is the only incumbent running for re-election.
She said she wants to ensure continuity on the board and help the board stay focused on improving the district. She said the district population will increase by 50% because of new city developments, so the district needs to find funds to build new schools for those students.
Blakely, 60, has served on the PTA Board at Landels Elementary School and has held other volunteer positions in the district.
She said she wants to bring kids back to campus, but is supportive of the superintendent's recommendation to keep distance learning until at least January while improving student access to reliable internet and facilitating opportunities for students to meet up in the safest possible outdoor manner, like outdoor sports or recreation "pods," or small groups of students. She said she wants to have support pods for young children, children with learning differences and English language learners.
CHRISTOPHER CHIANG, a middle school teacher at Keys School, is running for the board after having resigned from it in 2015 because of bullying behavior from former school board member Steve Nelson.
Chiang, 40, said he wants to encourage diverse viewpoints on the board. He said the replacement of 13 principals at 11 school sites over the last two years has had a "chilling effect" on divergent thinking. He said the current school board has shut down public input.
He said his experience as a teacher is needed on the board.
"Teachers see a growing disconnect from the challenges they and parents face and the policymakers making the decisions that affect their lives," he said.
He said he wants to encourage project-based learning in the district and improve distance learning with student pods and better tech support for teachers.
PATRICK NESCHLEBA, who works at Intel Corp., said the board needs expertise on facilities planning, project management and fiscal responsibility as well as advocates for diversity and inclusion. He said it also needs a middle school parent.
Neschleba, 46, said he meets all those criteria. He said his background in business operations and budget management can fill a critical niche on the board.
He said his experience managing inclusion programs will be useful.
"I (will) work hard on teams to find areas of consensus, take a positive approach toward improvement of leaders and organizations and follow through on my commitments to serve," he said.
Small business owner MANNY VELASCO did not respond to the Post's candidate questionnaire.