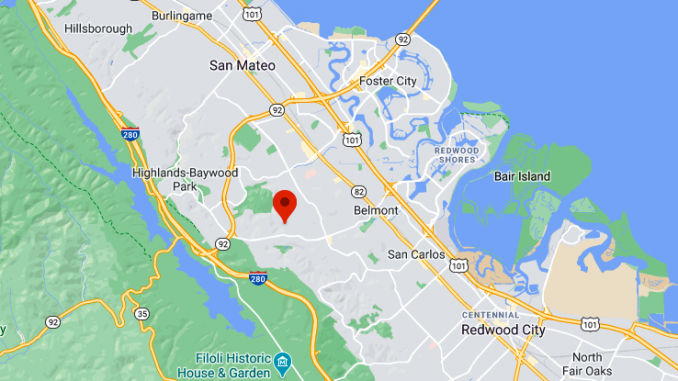 By the Daily Post staff
Firefighters reported at 8:30 tonight that they have extinguished a four-alarm vegetation grass fire in San Juan Canyon in the 2900 block of Alhambra Drive in Belmont.
The fire was so worrisome this afternoon that evacuations of 40 homes had begun.
The fire was first reported to dispatchers at 3:44 p.m. this afternoon. The cause is under investigation.
The San Mateo Consolidated Fire Department, which serves Belmont, reported at 5:04 p.m. that the forward progress of the fire had been stopped.
Property damage was limited to 40 feet of retaining wall and 60 feet of fencing, the fire department said. No homes were damaged and no injuries were reported.
In total, approximately 2 acres of land were burned.
Several crews will remain on the scene overnight and into tomorrow for a total of 24 hours to address any remaining hot spots and monitor conditions. Evacuated residents are expected to return home later this evening.