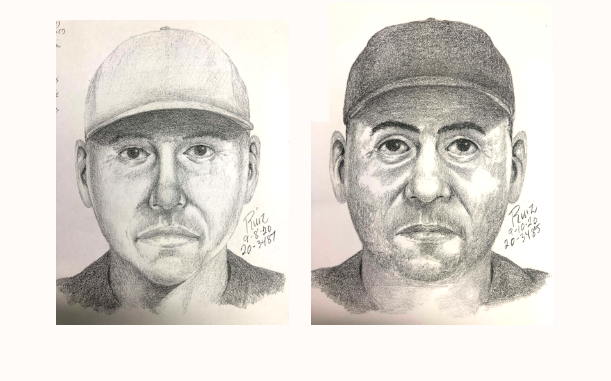 By the Daily Post staff
Palo Alto police today released sketches of a man they believe exposed himself to a woman in a park and groped another woman in a different park.
The two incidents happened about an hour apart on Labor Day in north Palo Alto.
At around 9:30 a.m., police got a call from a woman in her 20s who said a man had exposed himself while she was practicing soccer by herself in El Camino Park, 155 El Camino Real, across from Stanford Shopping Center. She said the man approached her and complimented her appearance in Spanish, and then watched her from about 50 feet away.
Then he exposed himself. When she went to get her cellphone to call for help, he walked away.
At 10:29 a.m., police received a call about an incident that happened in the Timothy Hopkins Creekside Park in the 500 block of Palo Alto Avenue, which runs along the south side of San Francisquito Creek.
The victim, who was also in her 20s, said that she and her boyfriend had been taking a nap on the grass. She was awakened by a man who was touching her private parts over her clothing, police said.
Her boyfriend woke up and challenged the man, who left on foot.
Due to the proximity of these two incidents and a similar descriptions of the perpetrators, police said they believe the same man committed both crimes.
The two victims described the perpetrator as an Hispanic man between 40 and 50 years old, about 5-foot-8 to 5-foot-10. He was wearing a tan or gray T-shirt, jeans, a hat and work boots. The victim in the El Camino Park incident said the man was carrying a beer.
Anyone with information about these cases should call police at (650) 329-2413. Anonymous tips can be emailed to paloalto@tipnow.org or sent via text message or voice mail to (650) 383-8984.