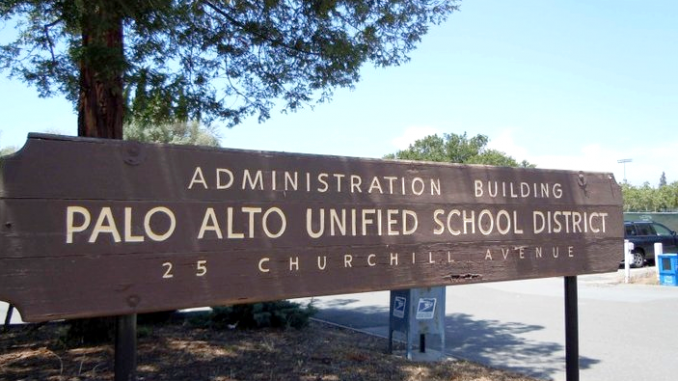 Correction: A previous version of this story misstated the remarks of parent Sarah Williams.
BY EMILY MIBACH
Daily Post Staff Writer
More than 20 parents and teachers last night weighed in on the Palo Alto Unified School District's plans for instructing students with special needs online during the pandemic, with many parents asking the district to find a way allow in-person classes for these students.
Gov. Gavin Newsom has decided that any county on the coronavirus "watch list," such as Santa Clara County, cannot have in-person classes.
So the district on Friday released an overview of its plan for home instruction of students with special needs. That plan includes students meeting with their aides one-on-one, having classes occur in real-time, giving families progress reports every week, and deliering services such as speech therapy remotely to students.
Many of the parents who spoke during last night's board meeting said they were not satisfied with the district's plan. Parent Dave Bell told the board it is not fulfilling its legal obligations to special education students.
Bell suggested the district have aides help students one-on-one at the student's homes to help with the computer during distance learning.
Some disabled students are not able to comprehend what is going on during distance learning classes, parents said.
Parent Christina Greenberg said during last night's meeting held via Zoom that her child destroyed most of the screens in their home during distance learning in the spring. Greenberg ended up having to hire an aide to come in and do school with her child.
"The anxiety of my child having more regression sits on my chest where I can't breathe," Greenberg said.
Board President Todd Collins, whose youngest son is autistic, noted how difficult it can be for parents whose children don't learn from online classes. It's difficult to watch them regress in what they have learned at school — behaviorally and academically, he said.
"These kids were already dealt a tough hand," Collins said while holding back tears. "And it is such a challenge for (parents) to watch their kids sit at home and not make any progress at all and not be where they were a year ago."
Parent Sarah Williams said she wanted to learn more about the district's plans to teach disabled students virtually. She said her daughter will do virtual learning all year because she does not understand how to socially distance herself or wear personal protective equipment.
Another parent, who only identified herself as Megan, said that she found her son needs different things when learning online versus in person. She suggested that the district give families the option to have virtual and in-person options on their IEP, or individualized education program, a contract in which the district agrees to provide accommodations for students as they progress through school.
Special education teacher Anne Marie Metzler said she wants to go back to the classroom, but has watched her parents and brother suffer from residual health effects because of COVID-19, which has made her rethink her willingness to go back to the classroom. She noted that distance learning is not ideal but health is important.
Changes in elementary school
Superintendent Don Austin last night also discussed the district's survey of elementary school families to see if they wanted to keep their children at home for the entire school year or not.
All learning will be remote until at least Oct. 12 under the district's current agreement with its teacher's union.
It may occur later though if the county's is not removed from the state's watch list before then.
Once elementary schools reopen, students will be at school for half the week.
So far, roughly 5-7% of the district's students have decided to stay at home for the entire school year, Austin said.
Austin has since picked 12 teachers to lead district-wide virtual classes for the school year, but he noted that there has been some concern by the PTAs that families stay in touch with whichever school they would go to normally. This is because many of the virtual classes will be offered to students in several schools.
In response, Austin said that each school will be sending out weekly information to families.
Also, students who need any sort of counseling or other sorts of services would get that through their home school, said Chief Academic Officer Anne Brown.
Austin also anticipates that more students will sign onto doing only virtual learning, and when that happens, he and his team will have to work to balance how many teachers are needed online and in person.