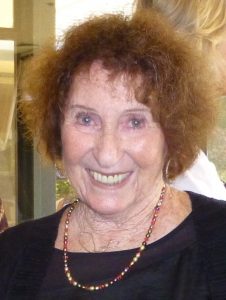 On Wednesday, April 29, 2020, Marjorie Rose, loving mother of four daughters, adoring grandmother of four grandsons and dear friend of many, passed away at the age of 87.
Margie was born Marjorie Ann DeWitt, and grew up with her parents, David and Ida De Witt, and brother, Donald De Witt, in Great Neck, New York. She attended Bennington College, where she majored in dance and met and then married Menko Rose. They traveled together for a year performing a marionette show until settling in Los Angeles and then Palo Alto, where Margie lived for sixty years.
They raised their four daughters, Dona, Jessica, Sally and Doris, in Palo Alto. Margie worked for many years as a physical education teacher at the Morgan Center, a school for autistic children. When she retired she took care of her four grandsons, Oliver, Will, Gustavo and Thomas, whom she enjoyed immensely.
Her Palo Alto home was a place of great warmth and welcome to her family, friends and neighbors. Her generous and loving heart touched all who knew her. She provided a lens of humor on almost any experience and modeled kindness and compassion at all times. She made the world a kinder, more graceful place, and it will not be the same without her.
Marjorie was predeceased by her longtime partner Merrill Bickford. She is survived by her daughters, grandsons, nephews, a niece, two dear sisters-in-law, her former husband, as well as many dear friends.
A celebration of life will be planned for late in June, or when we are able to gather again. If you would like to make a gift in her honor, consider making a donation to your favorite charity or to the Marjorie Rose Fund at watsonvillelawcenter.org/marjorierose