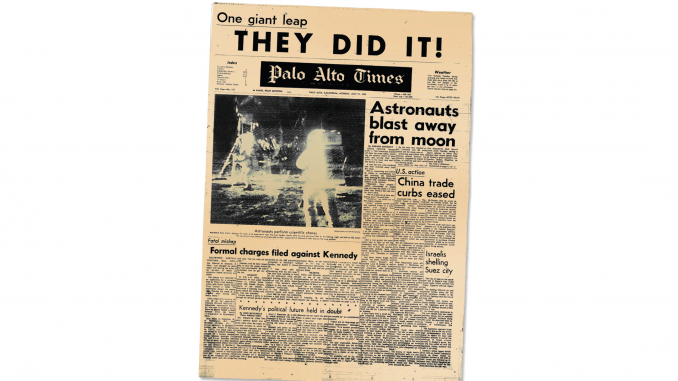 Pick up a print copy of today's Daily Post for a special treat. The Post has reprinted the front page of the Palo Alto Times from July 21, 1969, which reported on man's first visit to the moon. American astronauts landed on the moon on July 20, 1969, and the news of that extraordinary event was reported in the next day's Times.
The Times was Palo Alto's daily newspaper for decades. In the late 1970s, it was merged with the Redwood City Tribune, and the combined newspaper was titled the Peninsula Times Tribune. The Times Tribune closed in 1994. The Daily Post opened in 2008.
All this week, the Post has been printing stories about the 50th anniversary of the Apollo 11 moon landing.
Pick up a copy of the Post today at 1,000 mid-Peninsula locations.
Other Post stories on the 50th anniversary of the moon landing
• Where were you when man walked on the moon? The Post asked its readers
• Local residents played a key role in moon program
• Armstrong and Aldrin came to Palo Alto for different reasons
• Locals restore Apollo 11 computer, get it to run moon landing program
• What was happening in Palo Alto when man landed on the moon