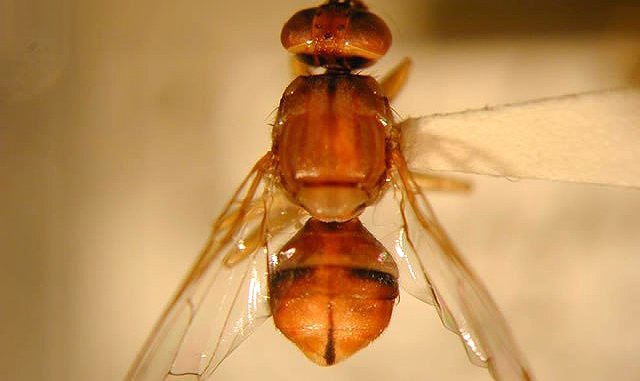 BY EMILY MIBACH
Daily Post Staff Writer
The Peach Fruit Fly — which kills peaches, pears and citrus fruits — has landed in the mid-Peninsula.
A male fly was found on June 28 and another one July 2, both in Palo Alto, according to San Mateo County Agriculture Commissioner Fred Crowder.
Peach Fruit Flies are common in much of southern Asia and nearby islands, and can attack more than 50 types of fruit and vegetables.
The female flies lay eggs in the fruit. When the larvae hatches, they tunnel their way out of the fruit, making it inedible.
Beginning Thursday (July 11), San Mateo and Santa Clara county officials will put out traps for the flies up in Palo Alto, Menlo Park and East Palo Alto.
Also, an organic pesticide that attracts the male Peach Fruit Flies will be placed on trees and poles about six to eight feet off the ground. The flies die shortly after eating the pesticide, according to Crowder.
It's not clear how these flies came to the area, but Crowder said the most common way for invasive pests to appear is by "hitchhiking" in fruits and vegetables brought into the U.S. illegally by travelers returning from infected areas.
If anyone sees a bug that looks like the Peach Fruit Fly, they should call the county's office of agriculture at (650) 363-4700 for San Mateo County and (408) 918-4600 for Santa Clara County.