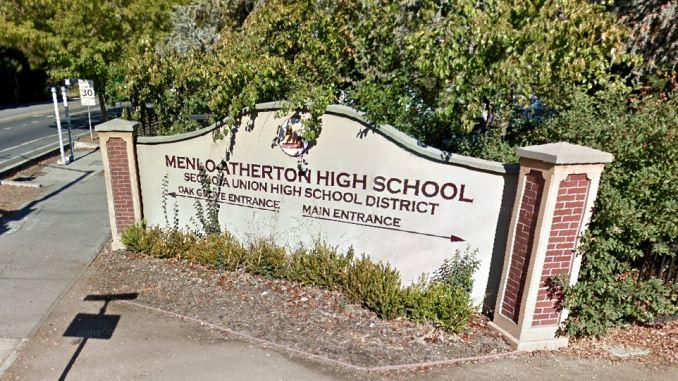 This story was printed in this morning's Daily Post.
By the Daily Post staff
As graduation ceremonies were taking place at Menlo-Atherton High School, officers were arresting a 16-year-old boy with a gun on the other side of the campus, an Atherton police official said yesterday.
At 5:27 p.m. on Thursday (June 6) — 33 minutes before the ceremonies were to end — a school security officer got on his radio and told Atherton Police about a fight near Ringwood Avenue and Arlington Way on the southwest end of the campus.
The graduation exercises were underway on the east side of the campus on the football field.
When police arrived, the youths who were fighting took off running. But one of them threw a grey object into some bushes, according to Cmdr. Joe Wade. The grey item turned out to be a T-shirt that was wrapped around a 40-caliber Glock pistol and a 15-round magazine that held three rounds, Wade said.
Police detained the 16-year-old from Redwood City who tossed the gun along with another 15-year-old from Sunnyvale, according to Wade. Neither are students at M-A, he said.
Wade said that police believe the gun hadn't been used during the physical fight.
The 16-year-old was booked into Juvenile Hall on six charges: Possession of a gun on school grounds, possession of a gun by a minor, possession of a gun magazine by a minor, possession of a large capacity magazine, resisting arrest (because he ran from the police) and violating his probation in a previous case.
The 15-year-old was taken to the police station and later released to his parents. He may face charges too. Wade said police have turned the case over to the District Attorney for review.