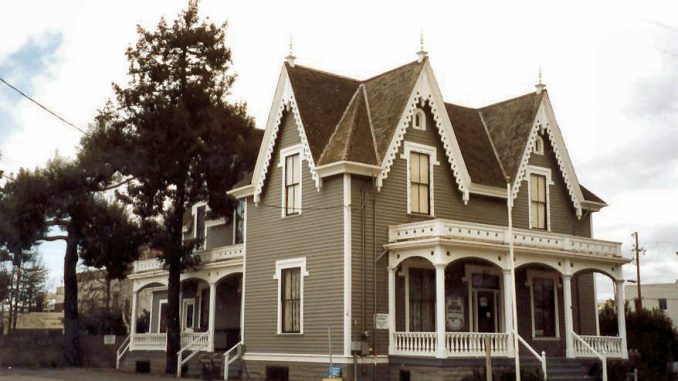 BY EMILY MIBACH
Daily Post Staff Writer
The historic Lathrop House in downtown Redwood City will soon be rolling down the street to its new home.
The house will be rolled some 250 feet down Hamilton Street to the parking lot behind the County History Museum at the old County Courthouse. The move is tentatively planned for the weekend of May 11-12, said Mitch Postel, president of the San Mateo County Historical Association, which runs the history museum.
Crews have put the house on wheels in preparation for the move. "They will be going very slow," Postel said. He said the movers will have everything "under control" so nothing goes wrong.
The house was built in 1863 by Benjamin Lathrop, San Mateo County's first chairman of the board of supervisors and the county's first assessor-clerk-recorder.
House was moved previously
This isn't the first time the house was moved. It was built in 1863 on a lot where the Fox Theater currently stands on Broadway. The house was moved around 1894 to another part of the block to make room for an elementary school that opened on the block, according to the house's website.
Then, in 1905, the house was purchased by Sheriff Joel Mansfield, who had it moved to the current location at 627 Hamilton.
The building is being moved in order to make room for a new county building at the corner of Marshall and Hamilton streets. That project will also involve the demolition of the former First American Title Company, Lebsack building and the traffic court. The building will be five stories tall and be about 121,000 square feet.
Relocating the house is expected to cost $900,000, most of which will come from the county's sale of the office buildings that replaced the old Circle Star Theater in San Carlos.
Once the house is settled down in its new location, Postel said the home will be reopened for tours. The home has been closed since June. Initially, the home will be run separately from the museum but will be free to tour. Eventually, the museum plans to have a carriage house on the block, and admission for the museum will get visitors in to all three, Postel said.