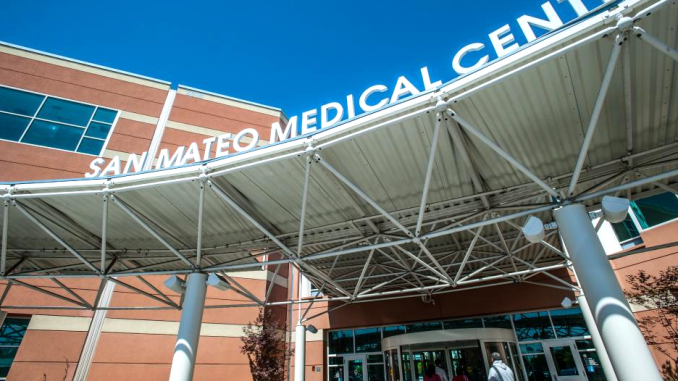 See update at the end
BY EMILY MIBACH
Daily Post Staff Writer
A woman is alleging in a lawsuit that an ultrasound technician at the San Mateo County Medical Center in San Mateo raped her.
Police arrested the man the day after the incident, but the District Attorney's office declined to charge the technician, saying there was insufficient evidence.
On March 8, 2017, Jane Doe went to the emergency room at the San Mateo County Medical Center at 222 W. 39th Ave. in San Mateo because she felt ill.
Once at the hospital, she was given some unknown medication which, in addition to her ailment, made her feel weak, according to the lawsuit filed Monday in San Mateo County Superior Court.
A nurse ordered an ultrasound for Doe, and waited with Doe until ultrasound technician Shukrat Saydaliyev arrived, and the nurse left Doe alone with Saydaliyev.
Saydaliyev first conducted a stomach ultrasound on the woman. He then applied lubricant to the woman's private area, and conducted a vaginal ultrasound. The vaginal ultrasound lasted for about 30 minutes, according to the lawsuit.
During the vaginal ultrasound, the woman told Saydaliyev that she did not fell well and asked to relax or close her legs, but Saydaliyev would not let her, according to the suit.
After the ultrasound, Saydaliyev continued to touch Doe's privates, and eventually raped her, the lawsuit alleges.
She says she was afraid to report it
"Plaintiff was traumatized and felt frozen. She felt weak from the medicine and was scared to tell anyone what happened," the suit says.
After raping her, Saydaliyev wiped Doe off with towels and covered her with a sheet, the lawsuit contends.
The Post attempted to contact Saydaliyev to get his side of the story, but could not find a working phone number for him.
According to a resume on Saydaliyev's LinkedIn profile, he worked as a sonographer at the medical center from August 2014 to April 2017. He has also worked for the VA Hospital in Palo Alto and Saint Francis Memorial Hospital in San Francisco.
Saydaliyev left the room and a male orderly came to get Doe. The lawsuit says that Saydaliyev and the woman were alone in the ultrasound room for an hour and 16 minutes.
The suit claims that it is improper for an ultrasound technician to examine a patient of the opposite sex without someone else in the room.
Doe did not tell anyone what had happened until the next day when she returned to the hospital with her husband. But as a result of the alleged assault, Doe now suffers from insomnia, depression, nightmares and anxiety, She now sees a therapist and takes medication to help her mental state.
The next day, March 9, 2017, Saydaliyev was arrested for the rape of an intoxicated person and sexual battery, according to San Mateo Police Department arrest logs.
'Beyond a reasonable doubt'
District Attorney Steve Wagstaffe said in an email yesterday that his office declined to prosecute the case based on insufficient evidence "to prove the case beyond a reasonable doubt." Since Wagstaffe was not in his office yesterday, he could not provide the exact reasoning for the dismissal.
Doe is suing the medical center because the rape occurred at the hospital and, according to the suit, no background or reference check was made prior to the hiring of Saydaliyev.
Additionally, Doe is saying that the county health center failed her.
Hospital's duty to its patients
"Defendants owed a duty to female patients, including Jane Doe, to provide a reasonably safe environment for them, to ensure their safety and to provide reasonably necessary supervision and oversight for their safety and welfare while at the medical facility. Defendants failed to fulfill their legal duty to provide a reasonably safe environment for female patients," the suit alleges. "As a result of defendant's negligent, careless and reckless acts and omissions, Jane Doe was improperly touched by a depraved predator, who exploited his position as a medical technician to violate an innocent and unsuspecting woman."
Update, Thursday, Dec. 27
BY EMILY MIBACH
Daily Post Staff Writer
San Mateo County District Attorney Steve Wagstaffe said yesterday (Dec. 26) that his office did not file charges against an ultrasound technician, who is accused of raping a patient at the San Mateo County Medical Center, because there was no corroborating evidence to support a conviction.
The rape allegedly occurred on March 8, 2017, but the case is just now coming to light because the victim filed a lawsuit on Monday in San Mateo County Superior Court against the county-owned Medical Center and former employee Shukhrat Saydaliyev.
The plaintiff, who is identified in the lawsuit as Jane Doe, claims that after Saydaliyev conducted a vaginal ultrasound on her, he touched her privates and then raped her.
He said, she said
"It came down to her word against his, and there was no corroborating evidence," Wagstaffe said. "I'm not at all saying that this didn't happen. But we need to prove things beyond a reasonable doubt, and since he denies this happening, it creates a reasonable doubt."
It was not known yesterday if the woman had requested a rape kit examination when she reported the crime. However, according to the Rape Abuse and Incest National Network, called RAINN, it is typically up to victims if they want to submit to the examination, and that DNA evidence needs to be collected within 72 hours of the assault.
Additionally, if the victim bathed, changed clothes, or cleaned up in any way, the likelihood of any incriminating evidence being found dramatically decreases, according to RAINN.
The hospital became aware of the allegations shortly after the incident occurred in March 2017 and alerted police, said San Mateo County Counsel John Beiers.
Arrested and released
Saydaliyev was arrested on March 9, 2017, by San Mateo police, according to arrest logs from the time. However, since he was never charged, he was released from jail.
Wagstaffe said his office looked into the case after San Mateo police investigated the woman's allegations that Saydaliyev sexually assaulted and raped her.
"The Medical Center took this allegation very seriously and will always strive to put patient safety first," Beiers said.
Beiers also confirmed that Saydaliyev no longer works for San Mateo County. Saydaliyev's LinkedIn profile says that he stopped working at the medical center in April 2017.