BY ALLISON LEVITSKY
Daily Post Staff Writer
Google is offering the city of Mountain View a $52 million package of public benefits in exchange for being allowed to build a six-story office building and four-story parking garage in the North Bayshore neighborhood.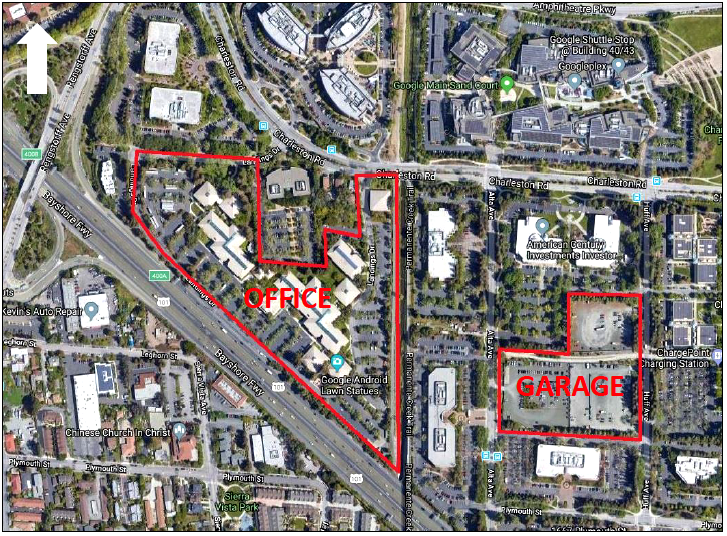 Called the Google Landings project, the development on Landings Drive would include 803,004 square feet of office space, with one level of podium parking (dedicating the a street-level floor of the building to garage space) and a 536,500-square-foot parking garage nearby on Huff Avenue.
The garage would include 1,792 parking spaces and ground-floor retail. The search giant is proposing to widen Permanente Creek, pay the salaries of three city planning employees for five years and install coordinated traffic lights on Rengstorff Avenue.
Other proposed benefits include paying the city and the Santa Clara Valley Water District to widen Permanente Creek from Highway 101 to Charleston Road, making the creek more attractive and ecologically valuable.
The search giant would also provide publicly accessible open spaces, trails and paths for walking and biking on the site, as well as a pedestrian and bike bridge across Permanente Creek. Google is also asking to remove 897 trees from the site.
City Council is scheduled to discuss the project and provide feedback to Google on Tuesday, Dec. 11, at 5 p.m.
Google is building millions of square feet of office space in the North Bayshore area along with almost 10,000 homes.
Another Google development in the works is Charleston East, a two-story, 595,000-square-foot office building at 2000 N. Shoreline Blvd.