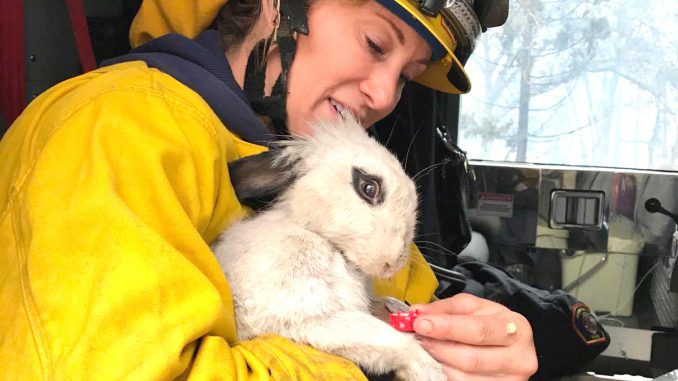 By the Daily Post staff
Firefighters from Santa Clara and San Mateo counties have been on the front lines battling the deadly Camp Fire in Butte County. And they have also been saving pets that were abandoned by their owners, who had to quickly leave their homes in Paradise when the fast-moving blaze began.
The Mountain View Fire Department posted photos of Fire Engineer Alicia Bailey with Burney, a burnt bunny, that she rescued while checking for fires that might have spread to inside walls and ceilings of the buildings still left standing in Paradise.
Burney's burns were treated and he's showing signs of improvement. He's finally beginning to eat and drink again after his ordeal.
"Poor little guy. (He) cannot move his rear legs due to the burns," fire officials said on Twitter.
Burney was taken to VCA Valley Oak Veterinary Center in Chico. Bailey has asked to adopt him if no one claims him.
A new 'assistant'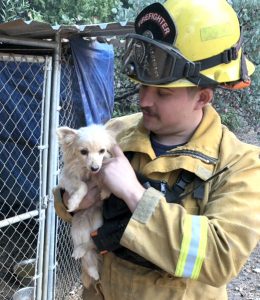 The Menlo Park Fire District sent out a photo of Central County Fire Battalion Chief Tim Louis with his new "assistant" — a cat the strike team rescued while working in Paradise.
The Redwood City Fire Department posted on Twitter pictures of firefighters who had come across seven dogs and a litter of kittens that were abandoned.
Not only have local firefighters been battling the blaze, but the San Mateo County Coroner's office has sent personnel to help Butte County officials. The death toll increased to 48 yesterday, and the number is expected to grow.
Several local fire departments have crews in Butte County.
Local 'strike teams' on the front lines
Menlo Park Deputy Chief Don Long, who is one of the two "strike team" leaders from San Mateo County, said the assisting fire agencies have been very busy, with San Mateo County firefighters on the front lines, where they have been trying to keep the fire near Lake Oroville from spreading, and putting out fires in Paradise. Strike teams are made up of 22 firefighters, five engines and two battalion chiefs from different agencies. San Mateo County has sent two strike teams to the Camp Fire.
"The city suffered major, major damage and we've been busy moving from neighborhood to neighborhood putting out fires since we arrived here Thursday evening. Everyone has been working non-stop," Long said in a statement from the Menlo Park Fire Protection District.