BY JOHN ANGELL GRANT
Daily Post Theater Critic
"The Legend of Georgia McBride" is a strange play.
In part, it is a tutorial for straight men on how to become a drag queen. In part, it is a family melodrama. In part, it is a campy drag show. This odd theatrical hybrid is playing at Los Altos Stage Company through Sunday (Sept. 30).
"Georgia McBride" begins in a failing night club in a Florida beach town, where a young man (Michael Weiland) performs his lip-synced Elvis impersonation to increasingly shrinking crowds. His act is a failure. The manager eventually demotes him to bartender, and then fires him.
With a fretful but loving wife at home, concerned about their finances, and a child on the way, things are bad. With no money coming in, the Elvis dreamer needs to find better-paying employment.
From Elvis to drag
But who knew that the Elvis dreamer's salvation would be drag? That, however, turns out to be the answer, as two queens working at the nightclub agree to teach him the ropes.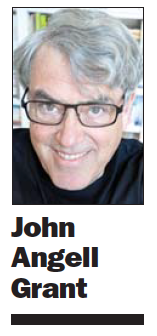 While the set up for "Georgia McBride" seems promising, playwright Matthew Lopez has written a somewhat childish script. The story is thin and often predictable, with only a few strong highlights.
One of those highlights occurs when our Elvis dreamer first agrees to try drag performance, and then gets an amusing costuming tutorial on how to wear the appropriate underthings and overthings, under the dressing room guidance of a more experienced performer (Jeffrey Scott Adair).
A second highlight is the rather heartfelt scene late in the show between gay and straight impersonators, with stories from each about their own evolving sexual identities.
But more generally, "Georgia McBride" goes back and forth between lip-synced drag show performance, and thin domestic melodrama.
The story feels formulaic, often telegraphing its moments in advance.
Lip-syncing
The production relies on the drag show vaudeville in order to work. But even there, the lip-sync oddly undercuts itself. It's one thing to see lip-sync on television, say, and perhaps cut the performer some slack as that person receives full audio support; but it's another to watch lip-sync on a small live stage, in a small theater, where one might at least be expecting karaoke.
At any rate, the pieces don't come together in a strong way. It feels like an outline that is not fully fleshed out. Overall, the show runs 105 minutes with no intermission.
Most unusually, however, "Georgia McBride" is a tutorial for straight men on how to become a drag queen. So, guys, if you were ever interested, this is your chance learn how.
For tickets and information visit losaltosstage.org or call (650) 941-0551.
John Angell Grant is the Daily Post's theater critic. Email him at [email protected].