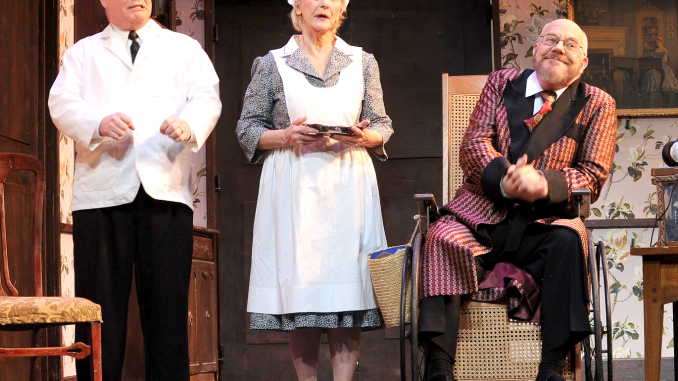 BY JOHN ANGELL GRANT
Daily Post Theater Critic
A cranky New York radio host breaks his hip on the ice in small-town Ohio at Christmastime, thus getting stuck in a wheelchair for several weeks, and raising havoc among his hosts, friends and enemies.
That's the set-up in the classic Kaufman and Hart Broadway comedy, "The Man Who Came to Dinner."
The show opened over the weekend at Lucie Stern Theater, presented by Palo Alto Players, in a production that features key personnel associated with Gunn High School's theater program.
The play is an old chestnut. First produced in 1939 in the mold of the zany, madcap stage comedies of that decade, it features fast entrances and exits, and lots of flamboyant eye-rolling. The show is a stylistic model for the television sitcoms that evolved decades later.
"The Man Who Came to Dinner" opens with the self-important radio host sitting in his wheelchair, and sifting through his morning celebrity correspondence with various literary, theatrical and film celebrities from the 1930s. As the play unfolds, various people fall in and out of love, often as targets of romantic sabotage.
The Palo Alto production stars long-time Gunn High School drama teacher Jim Shelby, in the central role of curmudgeonly Sheridan Whiteside. Shelby is one of the godfathers of Palo Alto theater.
Tricky show to produce
The production also features Kristen Lo, another a Gunn drama teacher, as the radio host's personal secretary. Paul Dunlap, a third Gunn teacher, plays the secretary's beau — a local reporter who has written a play.
"The Man Who Came to Dinner" is a tricky show to produce. Most difficult is the challenging fact that the crotchety main character is not a likeable person. Mean-spirited and insulting, he enjoys hurting people.
That character is modeled on opinionated New York journalist of the day, Alexander Woollcott.
Further, the script consists more of devices than of plot. Such comedy requires fine tuning in the performances and direction, to overcome the limitations of the writing.
Basically, the actors have to carry it. The play's tone is also troubling. This 1930s New York story makes fun of small-town U.S.A. Audiences of the time who attended Broadway shows presumably found this amusing. But from the perspective of 2018, that tone seems churlish and shallow.
Psychologists have taught us that people who mock others do so because they themselves feel somehow "less than" in their own hearts. So it's often difficult to find humor in such mean-spirited ridicule.
Good performances
There are good performances among the secondary characters. Chris Mahle is amusing as Banjo, a character based on Harpo Marx, who was a close friend of Woollcott. Brian Flegel is also impressive as a swishy English actor modeled on Noel Coward.
Justin Brown (another Gunn teacher) has an entertaining cameo as an entomologist with a portable cockroach farm; as does Gay Richard, playing an embarrassing nutty relative.
Because of cost, big cast plays like this are performed less and less frequently. So if you've not had a chance before to see "The Man Who Came to Dinner," this is a good opportunity to catch it.
For tickets and information visit paplayers.org.
John Angell Grant is the Daily Post's theater critic. Email him at [email protected].