BY EMILY MIBACH
Daily Post Staff Writer
Four baby foxes, or kits, have been reunited with their mom after they were found by a Hillsborough woman in her backyard.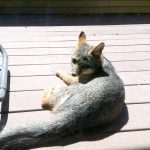 The kits, who are about a month old, are about the same size as puppies, so the woman originally thought they were an abandoned litter of puppies, said Peninsula Humane Society Spokeswoman Buffy Martin Tarbox.
After waiting a day to see if their mother would come back for her babies, the woman called the Humane Society, who picked up the kits on Tuesday and brought them to Burlingame where they were fed and kept warm in an incubator, Tarbox said.
While the kits were in Burlingame, the mama fox returned to the Hillsborough backyard with a dead mouse, food for her babies, said Tarbox. The mother fox literally made crying sounds before leaving the area.
But since it was clear she was looking for her babies, the humane society brought back the kits to the backyard on Friday and placed them near the area where the woman found them, Tarbox said.
The kits were in a box with a towel over them. Sure enough, the mother fox showed up and took the kits out of the box one by one and returned them to their den.
They are grey foxes, which are native to the Bay Area. Unlike other types of foxes, they climb trees and are often active during the day.