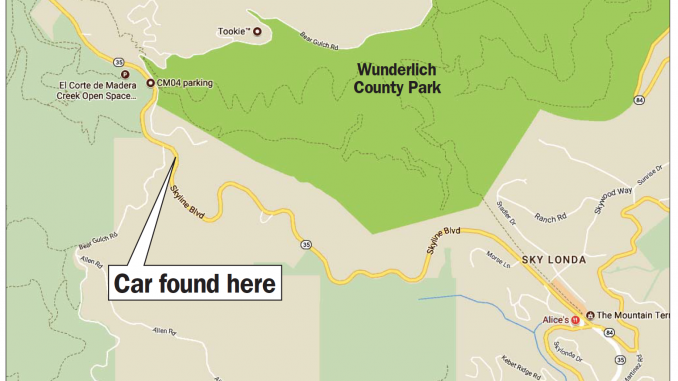 By the Daily Post staff
The San Mateo County Coroner's office has identified the three young men who died after their car crashed down an embankment off of Skyline Boulevard overnight.
They are:
• Matthew Cruz, 18, of Redwood City;
• Andrew Gonzales, 18, of Menlo Park;
• and Ricardo Torres, 19, of Redwood City.
The three graduated this spring from Menlo-Atherton High School in Atherton.
Using cellphone information, officers found the 2010 Hyundai at 7:49 a.m. today off of Skyline Boulevard (also known as Highway 35), south of Bear Gulch Road. The Hyundai had crashed at some point overnight.
The CHP said the car was traveling south on Skyline, left the west side of the road, hit a tree and came to rest on its wheels about 50 feet down the embankment.
All three were wearing their seat belts, the CHP said.
Anyone with information about the crash is asked contact CHP Officer Brian Wester at (650) 369-6261.
The following statement was emailed to parents and employees in the Sequoia Union High School District, which includes M-A.
Dear Sequoia Union High School District Community:
Last night, our school district community suffered tragic losses as Mathew Cruz, Ricardo Torres, and Andrew Gonzalez, Menlo-Atherton High School alumni, tragically lost their lives in an automobile accident.
On behalf of the Sequoia Union High School District, I am extending our deepest condolences to the families of those whose lives were lost in this tragedy. In this time of grief and pain, we must provide the impacted families, and each other, with love and support as we are forced to deal with the unimaginable.
I know that many in our school community had the privilege of having a relationship with the three young men we lost too soon. For that reason, I will be directing that our district provide Menlo-Atherton High School with additional counselors for any students and staff that may feel the need to talk to someone about their emotions.
Although words do not have the power of bringing those we lose back, they are critical in the healing process our community will have to go through over time. I encourage you to share your feelings and your memories as those we lose never leave our hearts when we keep their memories alive.
If I can assist you in anyway, please feel free to contact me.
Sincerely,
Mary Streshly, Ed.D.
Superintendent