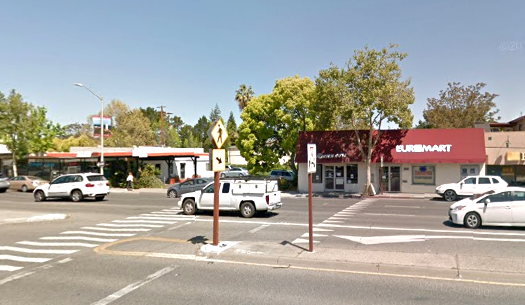 A Google Streetview of 3709 El Camino Real where a housing development is proposed.
BY ALLISON LEVITSKY
Daily Post Staff Writer
Palo Alto City Council members gave favorable reviews to a proposed housing project at 3709 El Camino Real, where Euromart is now located, even though its level of density would break the municipal code and Comprehensive Plan.
The nonprofit Palo Alto Housing wants to build a project at the northeast corner of El Camino and Wilton Avenue that would stand 48 feet tall and offer 58 studios and three one-bedroom apartments, and as many as 25% of them would be reserved for adults with developmental disabilities.
The project would cater to Palo Alto residents who earn 30% to 60% of the area's median income, about $25,000 to $50,000.
The council agreed Monday night to move the project along and have Planning Director Hillary Gitelman explore some ways to make the development consistent with city law.
Options include amending Municipal Code Section 18.15, to allow a floor-area ratio of 2.0 for affordable housing developments. A floor-area ratio, or FAR, refers to the relationship between the total square footage of the project and the total area of a lot. A 2.0 FAR means the usable square footage is twice the size of the lot. FARs of 2.0 are unusual in Palo Alto.
Another option is to create a new zone for the site that would allow the higher FAR.
A third option is to zone the site as a Planned Community, or PC, development, where a developer trades the right to exceed height or density laws in exchange for "public benefits."
PC zoning was put on hiatus
Ironically, it was a controversy over another Palo Alto Housing development — a 60-apartment senior housing project on Maybell Avenue — that led to the city putting PC zoning on hiatus four years ago. Neighbors opposed the Maybell development and led a successful referendum to kill the project in 2013. The fallout over the Maybell controversy led council to shelve PC zoning, which critics said was being abused by developers who received excessive variances in exchange for paltry "public benefits."
The 3709 El Camino site is currently zoned Neighborhood Commercial, which includes shopping centers and clusters of street-front stores, and dictates a floor area ratio ranging up to 0.4.
Palo Alto Housing initially planned for a five-story, 57-foot building, but scaled back the plan after spending 40 hours meeting with at least 25 neighbors over the summer.
Nonprofits as retailers?
Candace Gonzalez, CEO of Palo Alto Housing, told council Monday night that she hoped the ground-floor retail required by the city could also be used by nonprofits.
Because affordable housing developments rely on tax-exempt bonds, which have rules over how they can be used, allotting all of the development's commercial space as retail "would honestly kill" the affordable housing project, Gonzalez said.
But several council members and residents spoke out in favor of preserving retail on El Camino.
"A lot of people don't shop around there, but that's our downtown," said Becky Saunders, head of the Ventura Neighborhood Association. "We're getting kind of ghettoized there."
But not all Ventura residents want more retail.
"We'll just end up with another restaurant that I can't afford," Ventura resident Rebecca Parker Man-key said. "I'd rather have more neighbors."
Other ideas for retail space
Councilman Cory Wolbach suggested a community meeting space as one retail alternative that would still engage the public on the ground floor. Councilwoman Karen Holman liked the idea of renting it out as artist workspace.
The housing development would replace EuroMart, which provides an assortment of European specialty goods and grocery items, a hair stylist, a bridal store and a stamp and coin shop.
Maria Marriott, whose autistic son graduated from Palo Alto High School and now works at Whole Foods, said he wants to live independently, but would be starting "at ground zero" in another city in terms of developing living skills.
"I urge you to think about members of this community and how important it is to provide for everyone, not just the people who are at the top," Marriott said.
Other El Camino projects
At least 11 developments are currently in the works on El Camino Real, including 3001 El Camino Real, 3200 El Camino Real, 3225 El Camino Real, 3265 El Camino Real, 3401 El Camino Real, 3585 El Camino Real, 3709 El Camino Real and 3877 El Camino Real. The city hasn't approved an affordable housing project in five years.