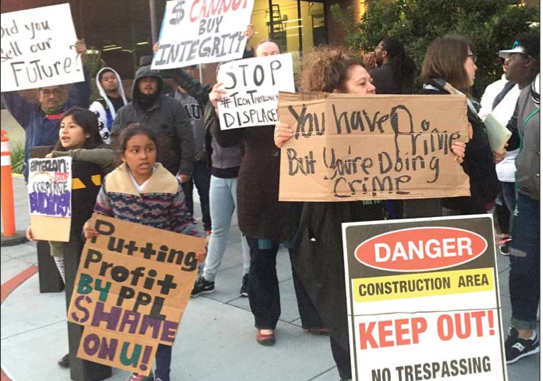 BY EMILY MIBACH
Daily Post Staff Writer
East Palo Alto and east Menlo Park residents last night aired their grievances about policing, gentrification and Amazon sidestepping East Palo Alto's local hiring quota at a vigil outside of Amazon's future offices in East Palo Alto.
"These bad decisions happen … when we don't say anything," said Khabral Muhammad, an organizer of yesterday's vigil. Muhammad is a part of the Real Community Coalition, who fellow organizer J.T. Faraji said has sprung up due to the "disappointments" people who live east of Highway 101 have felt due to Facebook's move to east Menlo Park in 2011 and Amazon's decision to come to East Palo Alto.
Demonstrators said that gentrification is causing rents to go up, displacing people who have lived in the community for years. Pedro Robles, who has lived in East Palo Alto for 40 years, said some of his friends have moved out of the city to places like Modesto and then spend two hours commuting back to the Peninsula for work.
Robles said he's not worried yet that he will have to leave East Palo Alto, but he said if more technology companies come to the city, he may have to.
"We need to work with our community so people can stay in the same city," he said.
Facebook to fund police work
Some of the protesters said they were concerned about Facebook's proposal to pay Menlo Park $9.1 million over five years to add five police officers and one sergeant to beef up patrols.
Faraji, one of the vigil's organizers, said many East Palo Alto and Menlo Park residents are unjustly stopped by Menlo Park police, and they oppose an expansion of the police force. He said they don't like to see Menlo Park police cars "cruising around" East Palo Alto.
"Why does our city and police department allow for Menlo Park police to come over and stop us?" Faraji asked.
But Facebook said it's trying to increase safety for all residents.
"We have a long-term commitment to Menlo Park and we want it to remain a safe and inclusive environment for the people who call this city home," said a statement from Facebook sent to the Post yesterday.
Facebook spokesman Jamil Walker said the social media company has "engaged with the community by supporting the preservation and enhancement of our neighborhood."
Another issue for the protesters is Amazon's decision to lease the 209,454-square-foot office building going up at Donahoe Street and University Avenue, where last night's vigil was held.
Local hiring quota waived
Amazon and the building's owner, the Sobrato Organization, convinced the East Palo Alto City Council to waive the city's rule that companies hire 30% of their employees from within the city, the Post reported March 17.
"Given the highly technical engineering work which will occur in the building, there will likely be a significant mismatch between the skills required for the open positions in the project and the available skills in the East Palo Alto workforce," John Sobrato, of the Sobrato Organization, told the city council.
Instead of meeting the hiring quota, Amazon will set up a 1,500-square-foot jobs center to find places for East Palo Alto residents to work.
The waiver Amazon received rankled protesters.
"They come here because they want the cheap rent and then don't want to work with (the city's) policies," Marlayna Tuiasosopo said. Tuiasosopo, who lives in East Palo Alto, said the organization Street Code, which helps train young adults to code and learn about becoming engineers, could help train East Palo Alto residents to work at Amazon.
She said some people are able to learn the coding used at places like Amazon and Facebook in as little as six months, and said Street Code wants to set up a "pipeline" for people who could work at Facebook or Amazon.
Amazon did not return a request for comment.