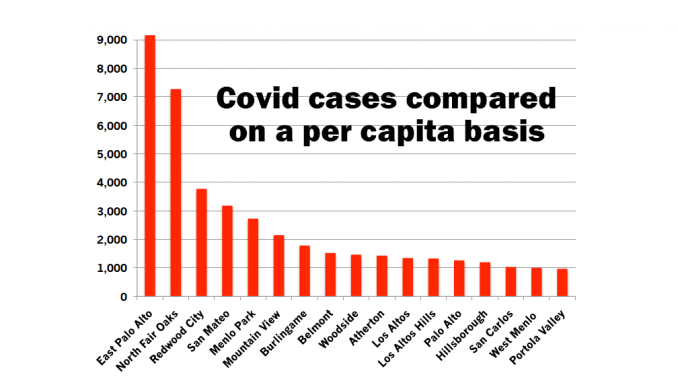 OPINION
BY DAVE PRICE
Daily Post Editor
Government, business and nonprofit leaders need to make a full court press to stop the surge of Covid cases in East Palo Alto and unincorporated North Fair Oaks.
On Jan. 2, the Post reported that East Palo Alto had 9,158 Covid cases per 100,000 compared to 1,265 in Palo Alto — a 7 to 1 ratio.
North Fair Oaks, the unincorporated area along Middlefield Road between Atherton and Redwood City, has a Covid infection rate of 7,269 per 100,000.
The numbers are from the Covid dashboards from Santa Clara and San Mateo counties.
While the numbers are readily available, they've received little attention from the news media or community leaders.
Mobile clinic approved
However, Santa Clara County Supervisor Joe Simitian of Palo Alto apparently knew about this surge when he asked Palo Alto City Council members on Dec. 23 to use $354,550 of federal block grant money to buy a mobile Covid vaccine clinic for East Palo Alto's Ravenswood Health Center.
To their credit, the council members unanimously approved the request, with then-mayor Adrian Fine acknowledging that Palo Alto had an obligation to help its less well-off neighbor.
What Simitian and the Palo Alto council did was laudable. But where are San Mateo County's leaders? They have federal block grant money too. East Palo Alto and North Fair Oaks so often seem to be the forgotten communities in San Mateo County. That kind of thinking needs to change.
Drop Newsom's vaccine priorities
San Mateo County leaders should drop whatever they're doing and go to work today on getting the vaccine to residents of these two hard-hit communities. They need to convince Gov. Gavin Newsom, who has failed at distributing the vaccine, that it's time to drop the confusing categories for who gets the vaccine first, and give it to whoever needs it right now.
Since we have an ample supply of unused vaccinations. It's time for some civil disobedience and have local health officials distribute them to the people who are most at risk, even if helping them means ignoring Newsom's system.
People in Palo Alto, Los Altos and Menlo Park have space in their homes for a Covid positive family member to isolate themselves. In East Palo Alto or North Fair Oaks, it's not uncommon for two families to occupy a single-family home. You've got people sleeping in the living room, kitchen or garage. There's no way to isolate somebody who is Covid-positive, so the virus spreads like wildfire. They need places to stay.
Let's give vaccinations to everyone in these two communities who wants one. And let's work day and night until the job is done.
Editor Dave Price's column appears on Mondays. His email address is price@padailypost.com.