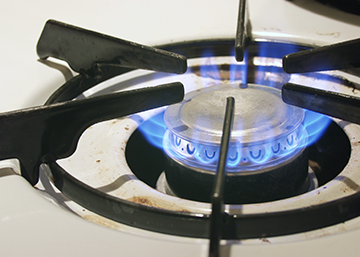 BY SARA TABIN
Daily Post Staff Writer
Los Altos City Council struck a compromise last night over a push by environmental activists to ban natural gas in new homes.
Instead of a ban on all gas appliances, which council had been talking about since last November, Council decided to allow gas stoves and fireplaces in new single-family homes as well as multi-family complexes under 10 units. But any development over 10 units will have to be all electric.
However, the city will ban other gas appliances — such as heaters — in all new homes.
The ban will apply only to new construction and not to existing homes that need to be redone.
The ban, with exceptions for stoves and fireplaces, was approved by Mayor Jan Pepper, Neysa Fligor and Jeannie Bruins.
Anita Enander and Lynette Lee Eng voted against it, saying they didn't want any ban on natural gas.
Bruins, who was among the three who wanted a complete ban last November, explained last night that she had heard the most complaints from residents about the ban on gas stoves. So she favored an exception for stoves and fireplaces.
Conflict of interest claims
At the beginning of the meeting, Pepper addressed complaints that she had a conflict of interest because she is CEO of Peninsula Clean Energy, a nonprofit that buys renewable energy, puts it into the state power grid and sells it to homeowners and businesses in San Mateo County.
A sister organization to Peninsula Clean Energy, Santa Clara County's Silicon Valley Clean Energy, paid Los Altos $10,000 to put an item on its council agenda to change a range of energy-related ordinances including banning natural gas. The nonprofit said it was not paying Los Altos to impose the ban, just to consider changes to its codes related to energy.
Pepper said she ran for council as an environmentalist and supports green policies such as gas bans and increased recycling. Pepper said claims that she will profit from the gas ban are false.
Questions about whether the ban is legal
Councilwoman Anita Enander said she thinks a gas ban in residential homes is illegal because it won't be cost-effective and state codes prevent cities from passing codes that increase housing prices.
Bruins said the California Energy Commission has already approved legislation for all-electric houses. She said Enander's claim doesn't hold water.
Bruins said she felt gas stoves and gas fireplaces should be allowed in single-family homes, but multi-family complexes with 10 units or more, they should be all electric.
Councilwoman Neysa Fligor asked her why the two types of housing are different.
Bruins said there are "different people" in the two types of housing and she doesn't see any advantage for public safety and health in having gas in multi-family buildings.
Enander said she wants to let residents make their own choices because they are smart.
Fligor said leaders have to make decisions in the interest of community health. She said lots of city ordinances take away people's choices.
Lee Eng said she is worried electric batteries and heat pumps will be noisy.
Bruins said they are similar to air conditioning.
At the start of the conversation, Pepper asked Lee Eng and Enander if they would consider an ordinance that allows gas but says the house has to be wired so it could be used for all-electric appliances in the future.
Enander said "yes" but Lee Eng said "no." Lee Eng tried to go back and agree to that plan later, but Pepper and Fligor wouldn't reconsider it.
Community Development Director Jon Biggs said he will write up an ordinance that reflects the council's vote and bring it back for approval.
Residents spoke on both sides of the issue.
David Sue said the number one cause of emissions in the city is cars, not gas in homes. He said the council should empower residents to make smart decisions instead of passing bans.
Anna Budman, 16, said the ban is an important way to combat climate change and keeping the planet livable.
Palo Alto, Mountain View and Menlo Park have approved bans of natural gas in new construction previously. Last night, Redwood City joined that list.