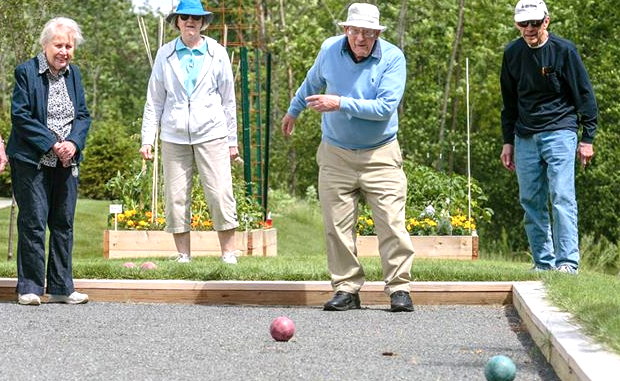 This story was originally published Aug. 27 in the print edition of the Daily Post. To get all the local news, including many stories that won't appear online, pick up a copy of the Post in the mornings at 1,000 Mid-Peninsula locations.
BY SARA TABIN
Daily Post Staff Writer
Bocce ball is proving to be a controversial sport in Los Altos, where residents are upset that former Mayor King Lear is pushing to have bocce courts built on city parkland.
Los Altos Legacies, a nonprofit geared toward seniors, and the Rotary Club have pledged a total of $50,000 to help the city build bocce ball courts at Grant Park. The $30,000 being offered by Los Altos Legacies will expire in December if City Council doesn't accept the money for the courts. The courts are estimated to cost $57,000.
Lear, a representative of Los Altos Legacies, has been spearheading the bocce court effort.
"I don't understand how it offends people," said Lear to the Post. "I think it's a positive approach to having outdoor recreation for seniors."
Frank Martin, a resident on Rossway Court, has been speaking out against the proposed courts for months. He said Lear is taking away public land by giving the city a donation.
Survey 'annoys' neighbors
Martin conducted a survey about the park on Nextdoor. He said 85% of over 100 participants said they don't want the park. But Martin's survey ended early when Nextdoor took down his survey because Martin violated their guidelines against "repeatedly posting about the same topic … in a way that annoys your neighbors."
The city has courts at the Hillview Community Center but the area is currently under renovation. The city says there were about 56 people on Mondays, Wednesdays and Fridays at the Hillview courts in March 2019. After the Hillview courts closed but before COVID, there were about 20 bocce ball participants each week at courts at Mountain View's Cuesta Park, which is 2.4 miles from Grant Park, according to Los Altos' statistics.
Although Martin's survey was pulled, many of his neighbors shared similar concerns with the city's Parks and Recreation Commission.
Cindy Andrews told the Parks and Recreation Commission earlier this month that she is concerned about the space the courts will take up in the park.
Size of courts
Grant Park is 4.5 acres or 200,000 square feet. The courts would take up an area of 30 feet by 85 feet.
A memo to the commission from Community Service Director Donna Legge says parkland is a valuable commodity in Los Altos since the whole city only has 45 acres.
Resident Mariel Stoops said in a letter to the commission that she would rather have basketball courts for her kids to use. She said there will be two bocce courts once the Hillview Community Center is finished.
The commission did not come to an agreement on how to advise the council and no date has been set for when the bocce courts will come before council.