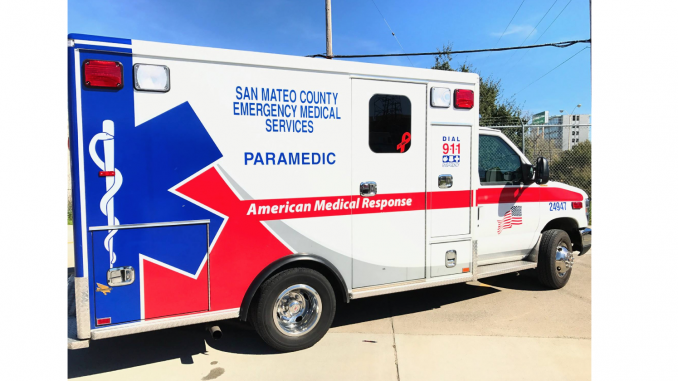 By the Daily Post staff
The ambulance company AMR West is suing authorities in San Mateo County's health system, saying it has been shortchanged $1.3 million in Medi-Cal reimbursement fees for ambulance rides.
Medi-Cal is the state- and federally-funded health insurance program for the poor.
The lawsuit, filed Monday, claims that the Legislature in 2018 began requiring county Medi-Cal programs to pay an additional $339 fee for each ambulance ride on top of the rates AMR now charges.
In the one-year period ending Jun 30, 2019, AMR said it transported 4,212 of patients and it was underpaid by more than $1.3 million during that time.
AMR says it has a spreadsheet showing how much it was underpaid, but didn't include that in the papers filed in court because it would violate the HIPAA health care privacy law.
AMR sent the Health Plan of San Mateo, one of the defendants, a letter asking it resolve the dispute or AMR would sue.
The lawsuit names the Health Plan of San Mateo and the San Mateo Health Commission, which runs the county's Medi-Cal program and four other programs: Care Advantage (health insurance for people in both Medicare and Medi-Cal), Whole Child Model (services for kids with complex medical conditions), and HealthWorks HMO (insurance for in-home services and support providers and eligible government employees) and ACE (insurance for low-income adults).
The health commission's 11 board members are appointed by the Board of Supervisors and includes two supervisors, Don Horsley and David Canepa, County Manager Michael Callagy, two medical doctors (Kenneth Tai and Jeanette Aviles), a pharmacist (George Pon), a hospital administrator (Bill Graham, president of Dignity Health Sequoia Hospital), a business representative (WelbeHealth founder and CEO Si France) and three members of the public (Ligia Andrade Zuniga, Barbara Miao and Teresa Guingona Ferrer.