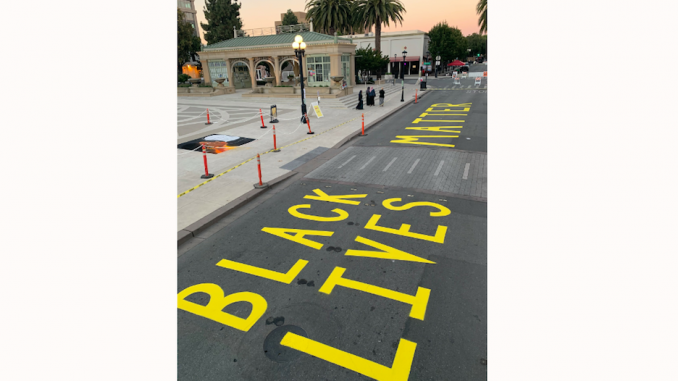 BY EMILY MIBACH
Daily Post Staff Writer
A Redwood City official said that Black Lives Matter won't be repainted on Broadway in front of the Fox Theater due to driver safety issues.
The city isn't saying whether it removed the painted letters over the weekend because somebody else wanted to paint "MAGA 2020" on Broadway.
The mural was removed because the city is worried about "driver confusion and traffic accidents," according to city spokeswoman Jennifer Yamaguma.
But she acknowledged that there were no significant traffic accidents due to the mural.
"There was concern about driver confusion related to painting on public streets," Yamaguma said.
"Thus, the existing mural has been removed from Broadway and no further art installation will be authorized on the city's streets," Yamaguma said.
However, some thought that the mural was removed because resident Maria Rutenburg requested to be able to paint "MAGA 2020" along Broadway near the Black Lives Matter mural. MAGA refers to President Trump's slogan "Make America Great Again."
Yamaguma did not say whether removing the painted Black Lives Matter letters was directly related to Rutenburg's request.
The city ultimately denied Ruttenburg's request, which came in on July 4, the same day that resident Daniel Pease and others were painting Black Lives Matter in front of the Fox Theater.
A change.org petition, asking the council to reinstall a Black Lives Matter mural, claims that the council decided to remove the mural because of Rutenburg's complaints.
But in multiple Facebook postings, posted in groups such as "Redwood City Residents Say: What?" and "Recall Gavin Newsom," Rutenburg says she did not threaten any legal action against the city after it denied her mural application.
"I'd like to make it clear now: this is not the outcome I wanted, nor one that I requested. I made my request because I saw that the Courthouse Square was being used as a public forum, and, as a Redwood City resident, wanted to participate," Rutenburg wrote. "The email I received from the council cited only 'traffic concerns' as well as the city not following the government procedures on the BLM mural as the only reasons for the mural's removal and my request's denial."
Pease had submitted a request with the city to paint Broadway with the statement on June 15, said Yamaguma.
The request was "informally" processed and intended for a short duration, said Yamaguma. The painting was intended to complement artwork done on the plywood boards in front of the Fox Theater and other businesses in Courthouse Square before the Black Lives Matter march on June 2.
It appears that if Rutenburg had wanted to sue the city over her denial, she could have been successful, according to legal experts, the Post spoke with last week.
Legal experts told the Post that if a Black Lives Matter mural is authorized by the council — which is what Palo Alto did for its artwork on Hamilton Avenue in front of City Hall — then the city does not have to accept proposals from others who want to paint or install artwork that portray another message.
Things get hairy, legally, when the artwork is not ordered by the council, but by someone who wants a permit to install artwork.
Former Mountain View City Attorney Michael Martello said if a city allows people to put up Black Lives Matter signs but not signs for another cause, then they could be accused of discriminating against particular viewpoints.
Martello pointed to a controversy that occurred in Colorado after 9/11 where the city government took down anti-war signs but kept up pro-troops signs. The courts decided that if one group was allowed to keep their freeway signs up then other groups should be allowed to as well.