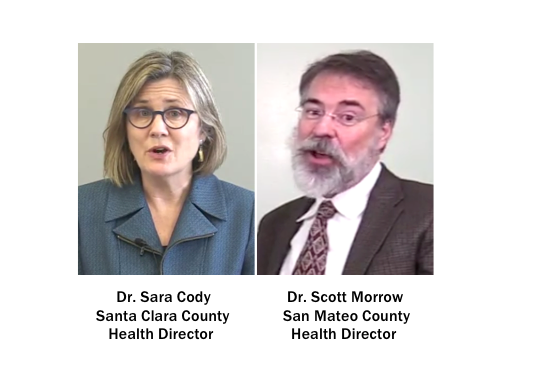 BY EMILY MIBACH
Daily Post Staff Writer
San Mateo County residents and workers are now required by law to wear masks when in public in an attempt to slow the spread of COVID-19, while Santa Clara County residents are strongly urged to do so.
Gov. Gavin Newsom imposed a stay-at-home order on March 19 to prevent the spread of the virus, but it was not immediately clear why health officials waited a month to ask everyone to don masks.
Health officers in each county on Friday (April 18) released their rules on when residents and workers ought to wear face coverings, but urged people not to buy N95 or other types of medical grade masks and equipment, saying they're needed by medical professionals in hospitals and clinics.
The new rules come as Santa Clara County has 1,870 confirmed cases, 73 deaths and 187 hospitalizations due to the virus. San Mateo County has 797 confirmed cases, 28 deaths and 71 people hospitalized due to COVID-19.
Wearing a face covering can help reduce the chance that people who are not showing symptoms of COVID-19, but still have the disease, will not spread the virus to others.
San Mateo County Health Officer Scott Morrow issued an order Friday, which if disobeyed can be punished by a fine or jail time.
Enforcement for wearing face coverings in San Mateo County will begin Monday.
Police officers in the county have been attempting to educate people who do not follow Morrow's other orders, such as the stay-at-home order, instead of ticketing or arresting them.
San Mateo County Health Department spokesman Preston Merchant said that health officials in Bay Area counties this week have been decided that wearing masks is useful. The first county to do so was Sonoma, and other counties have followed their lead including San Francisco.
Meanwhile, Santa Clara County Health Officer Sara Cody announced that she is instead "strongly urging" people to wear masks.
Police already overworked
Cody decided not to issue a legal order to get people to wear masks because her department is "mindful that enforcement resources are limited."
"Staying home, minimizing even essential activities, and reducing contact with others is still the most important tool. But, when we do have to go out into the public, face covering is a critical tool to reduce asymptomatic transmission," Cody said in a statement.
Both officers in their statements urge would-be mask wearers to not go out and purchase medical-grade masks, due to the shortage of protective gear for health care workers.
Use bandana, scarf
Items such as a bandana, scarf, towel or piece of fabric can be used and must cover someone's mouth and nose.
After wearing the covering, it should be washed. The health officials also say to always wash or sanitize your hands after touching your face and mask.
People who are not deemed essential workers are asked to wear the coverings when going to the store, appointments, riding on public transit and other times when they must leave their house.
However, if you are in your car by yourself or with other members of your household, you do not have to wear a mask once inside the car.
For essential workers, they are to wear masks whenever interacting with someone in public or a shared workspace.
For example, a construction worker who is working alone, does not have to wear a mask, but if a co-coworker joins in on the work, both people must wear masks. Runners, hikers and cyclists are not required to wear masks, but still must maintain the six feet of social distancing when out exercising. If that is not possible, then masks ought to be worn.
Others who do not have to wear a face covering include: those who have been told by a doctor not to wear a mask due to health issues, wearing a mask would create a workplace risk as determined by regulators.
In Santa Clara County, Cody says that children 6 years old and younger do not need to wear a mask.
In San Mateo County, Morrow says that children younger than 12 do not need to wear a face covering.