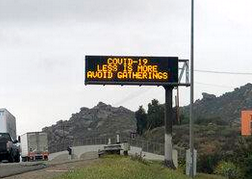 BY EMILY MIBACH
Daily Post Staff Writer
San Mateo County Sheriff's Deputies handed out nearly 300 parking tickets and 19 formal warnings to people who were not following the stay-at-home order.
In the Woodside area over the weekend, deputies had to break up dozens of people who were having a picnic near Alice's Restaurant at Highways 84 and 35.
The group arrived after a motorcycle ride through Woodside and unincorporated San Mateo County, according to sheriff's spokeswoman Lt. Stephanie Josephson.
Deputies handed out five tickets to people in Woodside who were either grouping together or were using trails that had been closed.
In San Carlos, two people were ticketed over the weekend for the same reason.
The coastside is where the most tickets and verbal warnings occurred, according to Josephson. In all, 299 parking tickets were issued over the weekend. Despite streets and Highway 1 having many "No Parking" signs, people still parked in order to go to the beach, according to Josephson.
Deputies handed out 12 tickets to people over the weekend along the coastside.
Most of the out of area visitors were from San Francisco, however, officers encountered a traveler from New Jersey, and multiple people from the San Joaquin and Sacramento valleys.