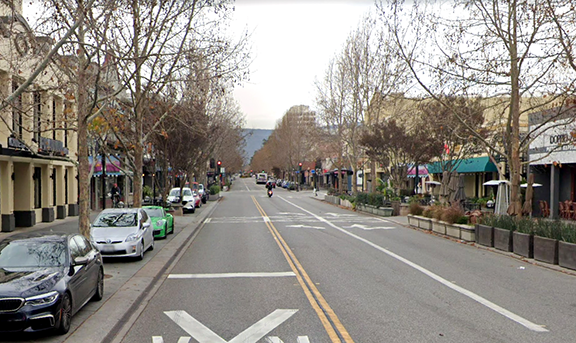 BY SONYA HERRERA
Daily Post Staff Writer
Mountain View officials are taking a risk in potentially turning Castro Street into a pedestrian mall, because some cities have found that the set up can reduce business and attract vandals.
Mountain View city council had voted unanimously to explore creating a pedestrian mall in 2018, with then-mayor Lenny Siegel saying it could bring more business downtown.
As it turns out, Mountain View has many of the characteristics of cities that have built successful pedestrian-only zones, according to a 2010 study. However, the probability of failure remains high.
Between 1960 and 1995, more than 200 downtown pedestrian malls were built in the United States. Only about 30 of them remained by the end of the millennium, according to a study by the National Main Street Center, a nonprofit dedicated to historic preservation.
Cities that have eliminated them include Chicago, Washington, D.C., Eugene, Ore., and Raleigh, N.C., according to Governing Magazine, a trade publication for city officials.
In fact, the nation's first downtown pedestrian mall appeared in Kalamazoo, Mich., in 1959. But the city decided in 1998 to reopen the street after it had become a magnet for vagrants. Residents excitedly competed, via a raffle, to drive the first car down the mall, according to the urban planning website citylab.com.
A notable failure in California was the Fulton Street Mall in Fresno, which reopened to cars in 2017. In Sacramento, K Street was closed to traffic for several blocks in 1969 but gradually converted back to a regular street.
The Third Street Promenade in Santa Monica has gone through ups and downs since it was first closed to traffic in 1965, but is widely cited as a success by urban planners. The city of Santa Monica recently hired Gehl Studio, the same firm Mountain View is consulting for the proposed mall on Castro, to help redesign and renovate the walkway.
Dorian Pojani, a lecturer in urban planning at UC-Berkeley, wrote a study examining the characteristics of pedestrian malls in the U.S. in 2010. Most successful pedestrian malls are built in small- to medium-size cities, Pojani wrote in her study. Mountain View fits this criteria, with its population estimated to be 83,000 as of 2019.
In addition, many pedestrian malls are located close to a college campus or tourist destination, or some other source of "specialized, readily available" consumers. This could be the case in Mountain View, where many employees and affiliates of local tech companies mingle downtown.
Pojani wrote that pedestrian malls need to be carefully managed in order to be successful. Pedestrian-only zones that are marked with vandalism, discontinuous storefronts, and litter tend to fail, while those with rain-ready features (such as canopies) and consistent design patterns tend to succeed.
Pedestrian malls are most suited to areas "that already function as community gathering places," Pojani wrote. Castro Street is home to the annual Art and Wine Festival, Thursday Night Live and several other crowd-drawing events.
The plan for a pedestrian mall is one of several that the city of Mountain View will study with Gehl Studio. The city will pay the urban design firm up to $225,000 to produce three ideas for how to redesign the 100 block of Castro Street. The public works department will present the ideas to city council sometime in April or May.