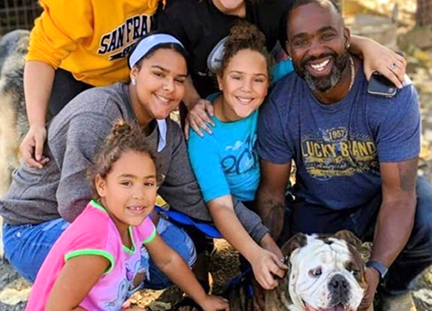 BY SARA TABIN
Daily Post Staff Writer
More than 550 people have donated $64,000 to the family of a Palo Alto Utilities lineman who was electrocuted.
Donatus Okhomina, 42, an Air Force veteran, was upgrading an electrical transformer outside Covenant Presbyterian Church, 670 E. Meadow Drive, when he was killed Saturday. He is survived by his wife, Tammy Okhomina, and four daughters, ages 6, 11, 14 and 17.
Managers in the Palo Alto Utilities Department created a GoFundMe page on Sunday. People donated amounts ranging from $10 to $500. Two anonymous donors each gave $5,000.
Some of the people who donated said they were friends of Okhomina and his family.
Adam Boughner said the two had done martial arts together. They didn't know each other that well, but Okhomina treated him like an old friend anyway.
Boughner said Okhomina was always smiling and talking about his family. Michael Gallagher said Okhomina treated other people with respect and dignity when they worked together at the Sacramento Municipal Utility District.
"(Okhomina) is a great husband, a great dad and someone that all men should strive to be like," said Rick Tully. "He will be greatly missed!"
Strangers pitch in
Others were apparently strangers who pointed to Okhomina's children and military service as reasons for donating.
Linda Marquez said her heart goes out to the family. She thanked Okhomina for serving the country and said his daughters will miss their dad's love.
Several prominent locals contributed to the fund. They include:
• Public Works Director Brad Eggleston.
• Joseph Huber, former Palo Alto mayor and current Santa Clara County Superior Court judge.
• Pat Burt, former Palo Alto mayor.
• Gary Kremen, Santa Clara County Water District director.
• Eric Nickel, former Palo Alto fire chief.
• Raj Patel, chief information security officer for the city of Palo Alto.
• John Liotti, CEO of Able Works, an anti-poverty program in East Palo Alto.
• Gary Brietbard, a local musician.
Okhomina was a seasoned electrical lineman who joined the city this month after six years with PG&E and eight years with the Sacramento Municipal Utility District. In the military, he served as a lineman at Travis Air Force Base for four years.
On Saturday morning, police officers were told by dispatchers that the victim had been electrocuted and that his body was still in the bucket of a city boom truck. No other employees were injured.
California's Occupational Safety and Health Administration is investigating the accident.
This is the first on-the-job, work-related death for the Utilities Department in 30 years, the city said.