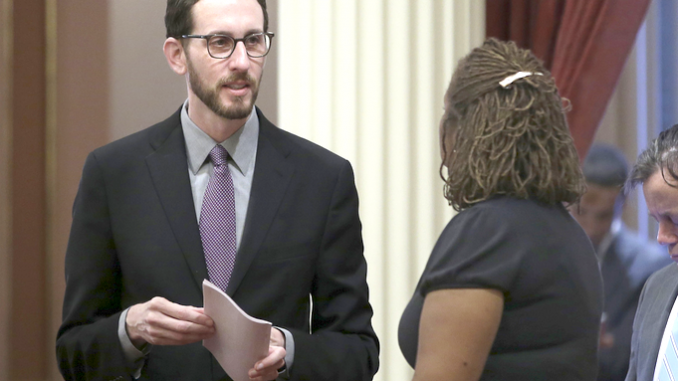 BY EMILY MIBACH
Daily Post Staff Writer
Scott Wiener, the San Francisco state senator whose controversial bill SB50 would pre-empt local zoning and allow for more and denser housing near transit and jobs, will be visiting Palo Alto on Friday (June 7) to talk about the bill. The bill has been shelved until next year, but there is still considerable interest in the legislation from opponents and supporters.
And Wiener's camp is prepared for protesters at the event that will be held at the Lucie Stern Community Center from 6 to 8 p.m.
Wiener has become accustomed to protesters at his events, and every once in a while there will be a heckler in the crowd, said Wiener spokesman Victor Ruiz-Cornejo.
Ruiz-Cornejo said there have been events where SB50 opponent Michael Weinstein, the head of Los Angeles-based AIDS Healthcare Foundation, has flown people up to San Francisco to protest Wiener and the bill.
Weinstein was behind the recent flyer that went out in San Francisco with quotes and pictures from the late African-American writer James Baldwin.
The flyer likened SB50 to comments Baldwin made about the displacement of African-Americans during the "urban renewal" of San Francisco's Fillmore district in 1963.
SB50 is also facing strong opposition from local officials and residents.
The slow-growth group Palo Altans for Sensible Zoning has put out newsletters and has a blog post on its website breaking down SB50 for its members. Palo Altans for Sensible Zoning has backed council members Eric Filseth, Tom DuBois and Lydia Kou.
On the other side of the coin, the "pro-growth" group, Palo Alto Forward, is supporting SB50, and along with the groups Silicon Valley@Home, Housing Leadership Council and the TechEquity Collaborative, are hosting the event. Palo Alto Forward has backed Vice Mayor Adrian Fine in the past.
Both Menlo Park Mayor Ray Mueller and Palo Alto Mayor Eric Filseth have come out against SB50. Mueller gave his views in a guest opinion piece in the Post, while Filseth dedicated most of his March 5 State of the City address to the bill.
Mueller said SB50 would make cities, school districts and other agencies pay for the infrastructure needed to support the new housing, yet the state isn't offering to fund this mandate.
"SB50 is a misguided precedent-setting centralization of power in the state that weakens the foundation of local representative government and devalues the voices of its electorate," Mueller wrote.
Local control
Filseth says SB50 reduces local control of development.
Filseth said that when the state is in charge, the result is projects like the one that is turning the Cupertino Vallco Mall into a housing and office project. Cupertino had to allow that project to go through under SB35, an earlier bill authored by Wiener. He said it would add some 9,000 jobs in 2.4 million square feet of office space, but it will only have 2,400 homes.
He said that exacerbates the housing-jobs imbalance, which is responsible for driving up rents.
He pointed to Mountain View as an example of how local control can benefit residents. He said Mountain View's North Bayshore plan calls for up to 3.5 million square feet of office space and up to 9,850 homes. (Google has since said it will only build 5,760 homes).
EPA leaders take a different view
However, not all local officials are against SB50. East Palo Alto's council members have spoken in favor of the bill, though the council's official position is to watch the bill and suggest amendments. Palo Alto Vice Mayor Adrian Fine also supports the bill.
EPA leaders contend that their city has had to bear the burden of the housing crisis while neighboring cities haven't done their share.
"I'm supportive (of SB50) in saying that regionally places like East Palo Alto can't continue to carry the brunt of continuing to house the people who don't have a lot of means," said East Palo Alto Councilman Ruben Abrica at an April 16 meeting.
East Palo Alto Councilman Larry Moody at a meeting on Monday (May 6) brought up the residents who had been pushed out of their homes and are now living in RVs on local streets.
"Those who are against SB50 typically have explored all the reasoning behind SB50, and how it's going to impact them at their front door," Moody said. "Are we willing to share our vast resources so that we can create a roof over someone who was once our neighbor's head?"
The event will be on June 7 from 6 p.m. to 8 p.m. at the Lucie Stern Community Center, 1305 Middlefield Road. The event is free, but people can register to attend at https://bit.ly/2VW3I2G.