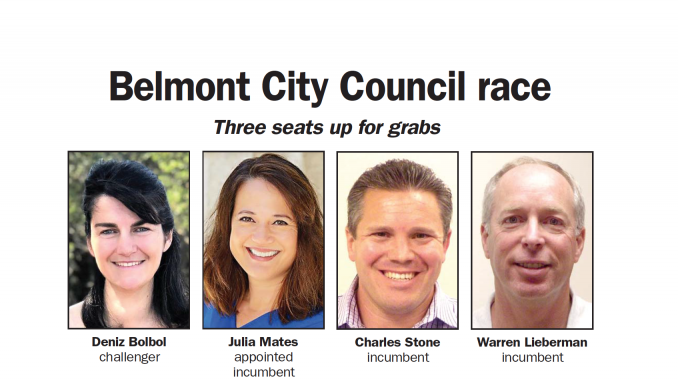 BY EMILY MIBACH
Daily Post Staff Writer
Four people are running for three seats on Belmont City Council, including three incumbents who want to shepherd the city along its current path and one challenger, who said the council is not listening to some residents. Julia Mates, Charles Stone and Warren Lieberman are the incumbents, while Deniz Bolbol is the newcomer.
Warren Lieberman has been on council for 13 years and is seeking a fourth term. During Lieberman's tenure on council, he has played a major role in negotiating with the fire department to be financially stable and enter into a joint powers authority with San Mateo and Foster City.
Lieberman said some of his goals if re-elected would be to ensure that the city's fire department continues to provide its "great service" and to approve projects that will make the city more walkable and bicycle-friendly.
Deniz Bolbol grew up in Belmont and moved back four years ago to care for her mother. She is serving her second term as president of the Belmont Heights Civic Improvement Association and said she decided to enter the race after attending a council meeting where she saw a councilman rebut every public comment that didn't support his position. She also said she's seen the council prioritizing special interests over residents.
If elected, Bolbol said she will listen to all residents and not push a personal agenda. Her goals include fighting overdevelopment and preparing the city for wildfires.
Charles Stone was elected five years ago and said he is running again to "make sure the Belmont of tomorrow is even more wonderful for the children of today." Some of Stone's highlights since being on council are improving facilities at Alexander Park and the rebuilding of Davey Glen Park.
If re-elected, Stone said he will focus on creating a new rec center at Barrett Community Center. Stone's other top priorities are to repair roads and storm drains and improve traffic along Ralston Avenue and Alameda de las Pulgas.
Julia Mates was appointed to the council in January after councilman Eric Reed died. Prior to that, she was the chair of the city's Planning Commission.
She said she's running in order to see through some of the items she passed while on the Planning Commission.
Mates said her priorities include reducing traffic along Alameda de las Pulgas and Ralston, and ensuring that police and firefighters are not trapped in gridlock when responding to calls. Mates also said she will work to reduce cut-through traffic in neighborhoods.
Whoever is elected in November will join Mayor Douglas Kim and Davina Hurt on the dais.