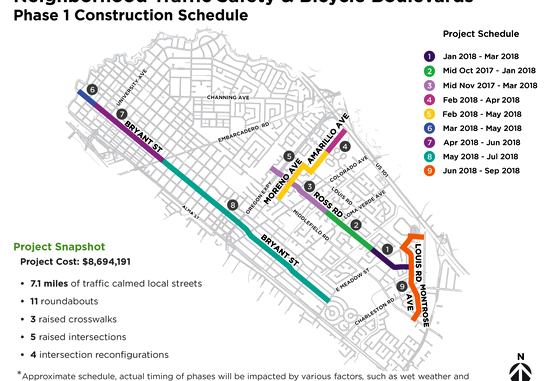 BY ALLISON LEVITSKY
Daily Post Staff Writer
More than 460 people have signed an online petition urging the city of Palo Alto to stop its traffic improvements at busy intersections on Ross Road, which includes plans for roundabouts.
The city's Neighborhood Traffic Safety and Bicycle Boulevard Project spans 7.1 miles and will cost $8.7 million. It includes 11 roundabouts, three raised crosswalks, five raised intersections and four intersection reconfigurations.
The project is intended to make intersections safer, but clearly, not all residents are thrilled.
"Many residents believe that the changes being made at busy intersections along Ross Road are unsafe and unhelpful," wrote George Jaquette, who launched the petition last month. "In pursuit of traffic calming, the changes have created dangerous interactions between cars and bikes."
Phase 1 of the project started in September along Ross Road, with other traffic-calming measures planned on Bryant Street, Louis Road, and Moreno, Amarillo and Montrose avenues through the next six months.
A roundabout was built on Ross Road at East Meadow Drive in December.
According to the American Association of State Highway and Transportation Officials' Highway Safety Manual, roundabouts reduce the types of crashes that seriously hurt or kill people by about 80% as compared with stop sign and traffic signal intersections.
Jacquette said that the roundabout would be a liability to emergency vehicles. Some signers have chimed in on the petition, posting complaints.
"I feel these roundabouts are too big and put bikers and emergency vehicles in danger," Bambi Lynn Ware posted. "I don't feel they are necessary to achieve 'traffic calming.' Other methods are available that do not (endanger) our public service vehicles or children."
Palo Alto has the third-highest rate of commuter bike ridership in the country, with 8.5% of the city riding bikes to work.
More than 216,000 bicyclists ride on the share lane along Bryant Street every year.
"This is a boondoggle. The consultants are scamming you, once again. (They) profit at the expense of public safety," Wesley Barton posted.