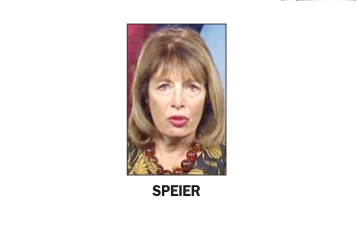 BY EMILY MIBACH
Daily Post Staff Writer
Congresswoman Jackie Speier D-San Mateo, is apparently thinking about jumping into the race for governor.
The rumor mill regarding Speier's possible run went into overdrive Sunday (Dec. 31) when former San Francisco mayor Willie Brown wrote about Speier's possible run in his San Francisco Chronicle column.
"My phone has been lighting up with messages that Democratic Rep. Jackie Speier is spending the New Year's weekend in Palm Springs with her advisers and mulling a possible run for governor," Brown wrote.
Speier's chief of staff, Josh Connolly, told the Post yesterday (Jan. 1) that he had not spoken to Speier since Brown's column had once out, and would try to get an answer. As of last night, the Post had not heard back from Speier's office on whether she will run or not.
If she takes the plunge into the governor's race, she would have to give up the House seat that she's held since 2008. State law prohibits a candidate from running for two offices at the same time.
The same thing happened to Loretta Sanchez in 2016, when she had to surrender her House seat in Southern California to run for the U.S. Senate. She was defeated by Kamala Harris.
If Speier gives up her House seat, it would open the doors to politicians in her district to run for Congress.
Another drawback to running is that she is also entering the governor's race late. Several candidates have been running for more than a year, and they've been raising money. Lt. Gov. Gavin Newsom has raised $13 million, former Los Angeles Mayor Antonio Villaraigosa has collected $4 million and State Controller John Chiang reports collecting $5 million.
The filing deadline is March 9 for the June 5 primary. The top two vote-getters in the primary, regardless of party, would advance to the Nov. 6 general election.
Speier has drawn national attention in recent months, something the others in the race haven't been able to do.
She's been on cable news programs speaking out against sexual misconduct in Washington, D.C.
In October, Speier publicly disclosed her own experience being sexually harassed as a young Congressional staffer. On Nov. 15, she introduced a bipartisan bill that aims to reform sexual harassment prevention and response measures in Congress.
She also criticized now former Michigan Rep. John Conyers for settling a sexual misconduct lawsuit in 2015 with a secret slush fund that was being used by other members of Congress to settle harassment cases. She later called for Conyer's resignation.
"She is one of the most competent people in government right now," said San Mateo County Supervisor Carole Groom.
Supporters of Speier say it would certainly add some excitement to the race.
"Jackie Speier has everything she needs to be the first woman governor of California," said Belmont Councilman Charles Stone. "It would be a phenomenal opportunity for her and the race is ripe for someone like her."