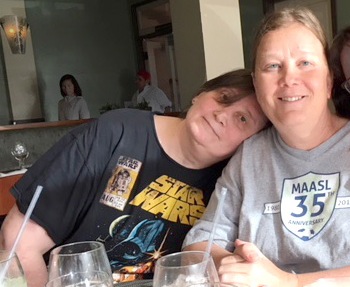 BY EMILY MIBACH
Daily Post Staff Writer
The murder-suicide of two East Palo Alto computer scientists blindsided the family of the murdered woman, her younger sister said Friday (Dec. 15).
Amy Downs, the younger sister of Heather Downs, 50, said that she had spoken with her sister on Sunday and their dad talked to her on Monday.
"Everything was good. There was no indication or any idea. It's just shock," Amy Downs said.
Heather Downs was killed Wednesday (Dec. 13) by her partner, Selene Makarios, 57. Neighbors called police at 9:26 a.m. after hearing gunshots. The two were dead when officers arrived. Makarios shot Downs and then herself with her handgun, said police Cmdr. Jeff Liu.
Downs and Makarios had been a couple for about 20 years, Amy Downs said. Both were computer scientists and met through work, she said.
For the past 13 years, Downs has worked at Acuitus in Sunnyvale, a technology and education company, for which Downs designed computer tutorials.
Since 2009, Makarios worked as a consultant and prior to that was a research associate for the computer sciences department at Stanford.
Downs and Makarios held two patents together with their former boss, Robert Fitzwilson, president of The Portola Group, a wealth management firm in San Jose. Makarios and Fitzwilson held two additional patents together and all four were for work Makarios
and Downs did while working for the Portola Group.
MIT grads
In addition to both being computer whizzes in work and school (both graduated from MIT), they would use the computer to make music, Amy Downs said. Downs wrote poetry and lyrics and would work with Makarios to program electronic music to go with the lyrics. Downs also played the French horn "beautifully her whole life," Amy Downs said.
Downs was described by her sister as a kind soul who was deeply introverted, but also had a competitive streak. Downs played soccer with both the Palo Alto Adult Soccer League and the Menlo-Atherton Adult Soccer League. She was on the board of directors for the Menlo-Atherton team, and was in charge of uniforms and equipment.
Makarios was described by her former boss at Stanford, Richard Fikes, as "a wonderful person and always coming up with little
surprises" for others.
Fikes said Makarios was "incredibly smart and brilliant."
Fikes also said she was very forthright and blunt about her opinions and analysis of projects she worked on.
Under investigation
Police are still investigating what caused Makarios to kill herself and Downs. Police had never been called to their home at 2279 Tuscany Court, and Liu said there was no sign of a struggle or fight between the two prior to their deaths.
Help is available
The Santa Clara County Suicide & Crisis Hotline is available at (855) 278-4204. Help is also available via Crisis Text Line (text HOME to 741741) or the National Suicide Prevention Lifeline at (800) 273-8255.