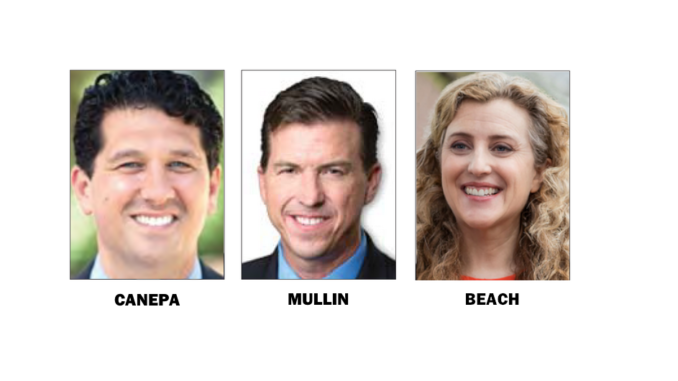 BY EMILY MIBACH
Daily Post Staff Writer
Over $2 million has flowed into the coffers of the four candidates running to replace retiring Congresswoman Jackie Speier, D-San Mateo, with Assemblyman Kevin Mullin, who she has endorsed, leading the pack.
Mullin, D-South San Francisco, was behind in fundraising at the beginning of the race, but has covered up any lost ground, reporting raking in $807,693, over $100,000 more than the next candidate San Mateo County Supervisor David Canepa, with $672,474.
About the same amount of money distances Canepa from the third Democrat in the race, Burlingame Councilwoman Emily Beach. Beach boasts $547,741 in her campaign coffers.
As money has flowed into the three Democrat's coffers, Republican and coastside resident Gus Mattammal has raised $37,156.
Together the four have collected $2,065.064 since the start of the campaign.
The top two candidates in Tuesday's primary will go on to the general election in November.
The 15th Congressional District (renumbered from 14 due to redistricting) covers the southern portion of San Francisco and then stretches down the bayside part of the Peninsula to East Palo Alto. Donors to each of the three Democrats include tech, unions, local business people, wealthy district residents and other elected officials. Meanwhile, Mattammal's contributors appear to be district residents.
Canepa ready to fight
Canepa has been on the Board of Supervisors for five years and before that was on Daly City's council. Canepa, currently the board president, has made numerous TV news appearances as the spokesman for the county regarding Covid and other issues over the past year.
Canepa previously said he wants to bring "a voice and not just a vote" to Congress if elected to replace Speier. Canepa said he's not afraid to "voice displeasure" if what he is trying to get accomplished in the district doesn't get funded by way of earmarks or through other bills.
He pointed to Nancy Pelosi and Zoe Lofgren to the north and south of San Mateo County as being effective in getting large infrastructure projects for their constituents, which is something he aims to bring to San Mateo County.
Mullin touts experience
Mullin has been in the state Assembly for nearly a decade and has had more than 60 bills signed into law, including a pilot program ran in San Mateo County and three other counties that led to all-mail elections. Mullin is also a former South San Francisco council member and has worked for Speier.
"I still believe that experience and qualifications matter when it comes to D.C.," Mullin previously told the Post. "My experience in Sacramento will be invaluable if I make the transition to D.C."
Mullin says he plans to use earmarks to help complete the electrification of Caltrain, to help fund wetlands restoration and other climate-related projects.
Beach was an Army captain
Beach served as a captain in the Army, stationed in Saudi Arabia, South Korea and Texas. She's worked as a business executive and has worked with nonprofits to raise money for local schools. During the pandemic, she created the Burlingame Collective, which brings stakeholders in town together to figure out how to navigate the pandemic's issues, such as isolation for seniors and expanding access to a food bank.
Beach wants to figure out a way to bring balance to get the wealthiest to pay their fair share. But also, workers need to be paid fairly. She said the unions can help people advocate for fairness in the workplace. Beach has also pointed out that the number of veterans in Congress is dwindling. She says she knows how important it is to weigh whether to send people's daughters and sons into armed conflict.
Mattammal a "constructive conservative"
Mattammal has never been elected to office. He has an MBA from Yale and a bachelor's in physics and math from Pomona College. He is a director for Advantage Testing, a tutoring company with an outpost in Palo Alto that offers help to students of any age.
Mattammal may be a Republican, but is not a Trumpian, calling himself a "constructive conservative" who plans to work across the aisle. He also wants to use conservative approaches to achieve goals that are favored by liberals, such as universal health care.