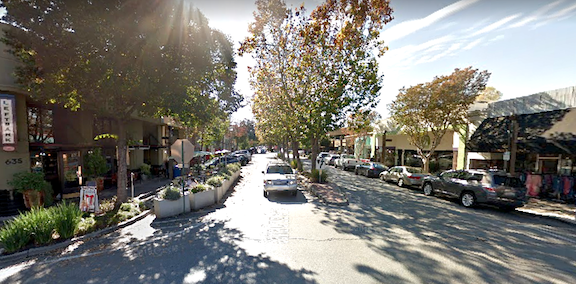 BY EMILY MIBACH
Daily Post Staff Writer
The Menlo Park City Council decided last night (Sept. 8) to completely reopen the westbound side of Santa Cruz Avenue to cars, and to keep two blocks on the eastbound side closed off so restaurants can serve people outside.
The north side of Santa Cruz Avenue, the side with businesses such as Stacks, Cheeky Monkey Toys and Roma, will reopen to cars by Oct. 1, the council decided in a 4-0 vote, with Mayor Cecilia Taylor absent.
On the south side of the street, two blocks will stay closed, as they have been since May when the council first decided on a complete closure of Santa Cruz. Those two blocks are from Doyle Street to Curtis Street and from Crane Street to Evelyn Street.
Council closed Santa Cruz downtown in June to allow restaurants to put tables on the street. Restaurants are prohibited from serving people indoors. Retailers were also allowed to put merchandise on the street. The closure also allowed pedestrians and bicyclists to socially distance more easily.
Although the north side of Santa Cruz will be reopening to cars, not all of the parking along that side of the street will be reopened. Restaurants are still allowed to have parklets — tables on parking spaces — set up in the parking outside of their businesses. Such businesses that will be keeping their parklets will be Roma, Ann's Coffee Shop and Stacks.
The reopening comes after business owners asked that the city make the closures simpler, instead of having portions of different sides of the street blocked off. Some retailers asked that there be one straight shot down Santa Cruz so they could get some drive-by business back, while also helping out the restaurants which can only open up outside.
The council will be checking in on the program in the next month or so to see if any further tweaks need to happen.