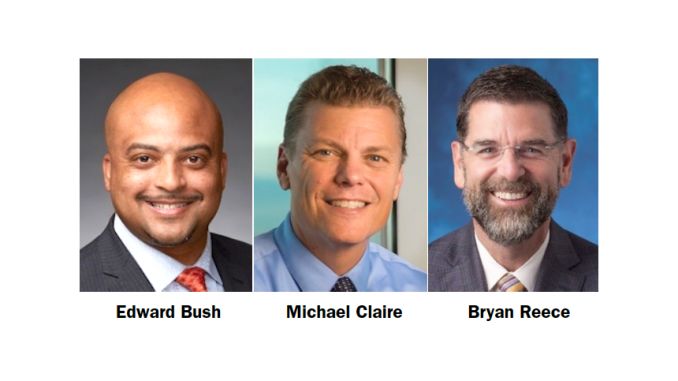 BY EMILY MIBACH
Daily Post Staff Writer
The San Mateo County Community College District board tonight wrestled with how the board ought to interview the three finalists for the district's chancellor.
As the Post reported March 30, the three finalists for the job are Edward Bush, president of Cosumnes River College in Sacramento; Bryan Reece, former president of Norco College in Riverside, and current San Mateo County Community College District interim chancellor Mike Claire.
Trustees Maurice Goodman and Richard Holober floated the idea of finding a place where proper social distancing could take place, and interview the finalists in person.
Board President Karen Schwarz said she would like to interview the candidates in person to watch their body language during questions and their reactions, and she suggested postponing the interviews until they can be done in person.
Schwarz, along with other board members, said that having the interviews in person would be dangerous given the COVID-19 health crisis and would set a bad example for the public during the stay-at-home order.
But Goodman pointed out that at least one of the candidates is a finalist in other chancellor searches, and if they put off the interview process for a new chancellor, that also means they will have to put off the process of selecting a new president for Skyline College in San Bruno.
Trustee Thomas Nuris said that so far, a great amount of research has been done in the search process. Trustee Dave Mandelkern said he would be worried about putting the two candidates who have to travel from southern California and Sacramento for the interview, in a difficult position where they would be faced with whether they value their health or this interview.
Ultimately, the board reluctantly agreed to have the interviews virtually next Tuesday.
Before the board interviews the candidates next week, the candidates will go through a forum tomorrow (April 8). The candidates will be asked questions that the community had submitted to Holober and Goodman, who are going through the 180 or so questions submitted, to determine which should be asked.
The forums will be posted to the district's website on Thursday for people to watch.
Those who have thoughts about the candidates or questions that the board ought to ask during its closed-door session, will be able to submit feedback about the candidates until Monday.