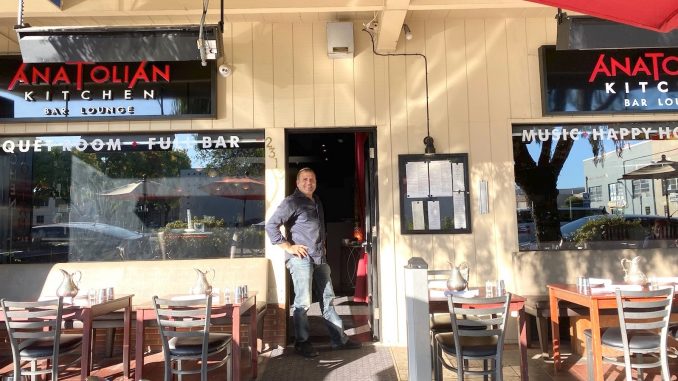 BY SARA TABIN
Daily Post Staff Writer
Anatolian Kitchen in Palo Alto is delivering free meals to people who are struggling financially because of COVID-19, seniors who are afraid to go to the grocery store and other people who need help getting food.
Owner of the restaurant at 2323 Birch St., Dino Tekdemir said he had shut the restaurant down last week under the county stay-at-home order, but reopened yesterday because he saw an opportunity to serve his community. He said Palo Alto has supported his business for the past decade and he wants to give back.
He said he is concerned about elderly people who are at higher risk of getting critically ill from COVID-19 but don't have helpers to pick up groceries.
He is also worried about people who have lost their jobs or are living in shelters.
Tekdemir said he is inspired by the health care workers who are risking their lives to combat COVID-19.
Doing his part
"I'm not a nurse, I'm not a doctor, but I can do something to do my part," he said.
Tekdemir said preparing and delivering food gives his employees something to do so that he can keep paying them and they feel needed.
He also owns two fine dining restaurants — Nemea Greek Taverna in San Jose and Naschmarkt in Campbell.
Both of those restaurants are closed down since they aren't suited to take-out. Tekdemir said he is paying some of his staff there partial salaries because they have families and need to survive.
He said he will run out of money to support his free food deliveries if things remain shut down for many months, but he has some money in the bank and intends to carry on for the foreseeable future.
Tekdemir said people who need food delivered can email him at tekdemirdino@hotmail.com or call him at (415) 939-7049.