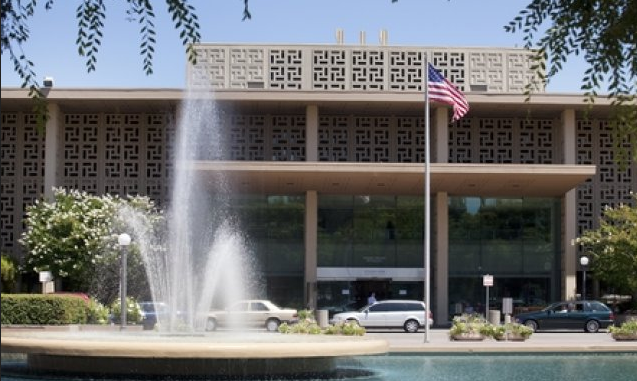 BY ALLISON LEVITSKY
Daily Post Staff Writer
Measure F, the union-backed measure to limit the profits of Palo Alto health care providers, is turning out to be a big-money campaign, with both sides spending a combined $1.8 million so far.
That's more than any Palo Alto ballot measure campaign in recent memory. The runner-up in the past decade is the 2013 ballot battle over whether to allow a high-density senior housing development on Maybell Avenue. Both sides spent a combined $211,000 in that campaign.
Measure F is sponsored by the political action committee of Service Employees International Union-United Healthcare Workers West, which has raised $3.8 million this year. The committee has spent $874,708.70 in support of Measure F.
Opposing Measure F is a committee called Protect Our Local Hospitals and Health Care, which has raised $4.2 million this year. The committee received $3.2 million from the California Association of Hospitals and Health Systems, $339,800 from Stanford Health Care and $148,000 from Sutter Health.
The committee has spent $946,385.13 fighting Measure F and $1.3 million fighting Measure U, a similar ballot measure in Livermore, where Stanford offers health care services through ValleyCare.
Combining the $874,708.70 spent by the union PAC and the $946,385.13 spent by the hospital PAC, the total is $1.8 million.
Measure F would require health care providers, including Stanford Health Care and Palo Alto Medical Foundation, to cap their profits at 15% above the cost of direct patient care.
The measure would require providers to either drastically cut prices, spend more on patient care or send rebates to patients' insurance companies.
Opponents say the measure is an act of retaliation against Stanford by SEIU for not giving in to the union's demand for a "neutrality" agreement that would have allowed the SEIU to freely recruit employees at their facilities in Redwood City, Emeryville, Pleasanton, and Livermore.
Deputy City Clerk David Carnahan said the city has not received financial disclosure forms relating to Measure E, which would raise Palo Alto's hotel tax from 14% to 15.5%. That likely means no one has contributed money to support or oppose the measure, Carnahan said.